Postponing TCGMC Spring Concert
March 13, 2020
 
Dear Friends,
 
In coordination with today's announcement from Governor Walz and the Minnesota Department of Health, and in collaboration with the University of Minnesota, Twin Cities Gay Men's Chorus (TCGMC) regrets to announce that we are postponing our upcoming performances due to the current threat from COVID-19 (Coronavirus). This includes our concert on March 18 at Westwood Lutheran, performances at Ted Mann Concert Hall on March 27 & 28 as well as the performance on March 29 at Central Lutheran. More information will be forthcoming with regard to concerts that are able to be re-scheduled.
 
Patrons with the ability to transfer their ticket purchase into a tax-deductible donation will provide significant help in off-setting costs already incurred by TCGMC. We appreciate your consideration of this option. If you are not able to donate your tickets, we will accommodate a refund.
 
To donate or refund your tickets, please complete THIS FORM  which asks for ticket purchaser information, as well as the order number (7 digit number on the left side of ticket). Submit this form by April 3, 2020. Or, call the U of M Tickets and Events customer service staff at 612-624-2345.
 
The decision to cancel performances is not taken lightly. Blood, sweat and tears are invested in preparing, rehearsing, and promoting these performances. The incredible work of our artistic team, board of directors and administrative staff should be recognized and applauded for their resolve while this situation has been evolving. It's also important to recognize the hard work and dedication of our all-volunteer singing members who have rehearsed and prepared for these concerts over months.
 
The current realities surrounding this public health epidemic do not allow us to bring our community together for these performances, but we remain steadfast in our mission to "build community through music." So, we intend to forge ahead, and we hope you will join us when we are able to reschedule these performances.
 
Thank you for your continued support of TCGMC, we need you, and for understanding this difficult predicament. Please visit www.tcgmc.org for updates about upcoming performances.
 
With PRIDE,
 
Kevin Stocks
Executive Director
Erased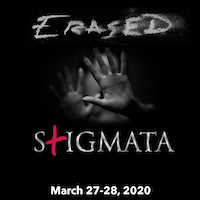 Canceled: Friday, March 27, 2020 at 8 PM
Canceled: Saturday, March 28, 2020 at 8 PM

Featuring new commissions by Jake Runestad and Tim Takach, our spring concert Erased  will address the communities and environments that are in danger of being erased: from indigenous peoples and trans youth, to natural habitats – as well as our very own lives. The first half of our concert will also feature the local premiere of "Listen," a compelling work for our Chamber Singers ensemble. The second half of our concert will address one thing we wish could be erased: the stigma against those who live with HIV. We will premiere a new song cycle called Stigmata that addresses through song the effects of this stigma on the lives of people living with HIV every day. The metaphor of the stigmata serves to remind people that we don't need to inflict the horrible pains of social crucifixion upon the HIV+ community. Join us for this powerful evening of music and reflection. 
 
Location:
Ted Mann Concert Hall
2128 Fourth St S
Minneapolis, MN 55455
The Saturday, March 28 at 8 PM performance will be ASL interpreted.  The interpreter will be located on the right side of the stage. An area near that location has been designated as ASL Seating, with locations on the Orchestra and Mezzanine levels.  
Ticket Information
Individual Tickets
Reserved seating. Ticket prices vary based on seating location. Discounts available for subscribers, groups of 6 or more, and children 12 and under. Purchase early for best seating and for best price; prices increase the week of the performance. If you have questions about ordering, or prefer to order by phone, please call us at 612-624-2345.  
Friday at 8 PM
$45  Golden Circle
$43  Price 1
$34  Price 2
$27  Price 3
Saturday at 8 PM
$50  Golden Circle
$48  Price 1
$38  Price 2
$30  Price 3
Children under age 12 tickets are 50% off.

Student Rush tickets will be offered 1 hour prior to each performance, based upon availability, at the Ted Mann Box Office. A valid student ID is required. Seating will be on a best available basis.  Student rush tickets are $10 each

**Please note:  online ticket sales end 2 hours prior to concert.  In person sales at Ted Mann Concert Hall will begin 1 hour prior to concert.
 
---
Season Pricing maps: Ted Mann Concert Hall
---
Parking Suggestions:
21st Ave Ramp
19th Ave Ramp
Information and details about TCGMC's 39th season subject to change.

All ticket sales are final.
 
Twin Cities Gay Men's Chorus
528 Hennepin Ave Ste 307
Minneapolis, MN 55403
P:  612-339-SONG (7664)
F:  612-332-8141
E: 
chorus@tcgmc.org
www.tcgmc.org
Contact us:
U of M Tickets and Events
Northrop
84 Church St SE, Ste 13
Minneapolis, MN 55455
Phone:
612-624-2345
https://tickets.umn.edu
Email: 
umntix@umn.edu
Hours:
Mon - Fri: 10 AM to 5 PM