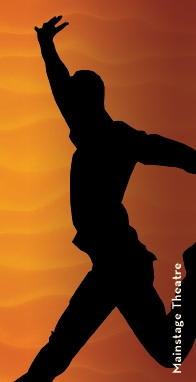 UMD Dance Concert: Off the Record
Artistic Direction by Rebecca Katz Harwood
Choreography by UMD Faculty, Students and Special Guest Artists
Mainstage Theatre
February 20 - 22, 2014 at 7:30 PM
February 23, 2014 at 2 PM*
OFF THE RECORD is this year's UMD Theatre Mainstage Dance Concert.  This year's theme is all LIVE music, which allow our choreographers to work with local and out-of-town musicians.  Join us for an evening celebrating the magic of dancing to live music.  See the music and hear the dancing with a talented group of artists presenting work from faculty, student, and guest choreographers.

Each piece brings its own twist to the choreographer/musician collaboration.  Some pieces feature music specially composed for the dance, others draw on existing songs in the musicians' repertoires.  The musical styles range from Celtic, to Afro-Cuban, to indie pop, to experimental and the dance styles encompass ballet, modern, jazz, body percussion, and tap.  Choreographers include faculty members Ann Aiko Bergeron, Rebecca Katz Harwood, Kelly Grussendorf, and Lila Coates White; students Grace Holden and Alana Tingelhoff; alumni guest choreographer Amber Burns; and nationally recognized tap dancer/choreographer Max Pollak, who will also be performing as a guest soloist.   In addition to several current UMD students, musicians include Jim Oftshun, Sue Spencer, Ed Willett, the band Red Mountain, Adam Sippola, and singer/songwriter Marty Winkler. 
As a kickoff to the 40th anniversary celebration for Marshall Performing Arts Center (MPAC) this spring, Saturday evening's performance will pay tribute to the dance legacy of MPAC, with a special video compilation of performance clips, and two extra dances - an all-Alumni Dance coordinated for the occasion by Rebecca Katz Harwood and performed by local alumni dancers and a special appearance by artists from the Minnesota Ballet (for whom MPAC was home to in its early years as the Duluth Ballet).
Tickets:
Adults: $18; Senior 62+: $13
UMD Faculty/Staff: $15
Student: $8; UMD Student: $6
BOGO for UMD Students, Faculty and Staff on Thursday, February 20, 2014.  BOGO tickets can be purchased at the MPAC Box Office or by phone at 218.726.8561. MPAC box office hours are Monday - Friday, 10 a.m. - 4 p.m.
Audio description is available for the Sunday matinee performance and may be used in any seating area. Please request audio description equipment at the box office prior to the performance. For further information, please call 218-726-8561.
* All 2 PM Sunday matinees will be ASL interpreted.  Please inquire about details and seating locations.
Contact us:
University of Minnesota Duluth
School of Fine Arts
Ticket Office
1215 Ordean Court
Duluth, MN 55812-3041
218-726-8561
218-726-8877
www.sfa.d.umn.edu