Lila Downs: A Song for My Father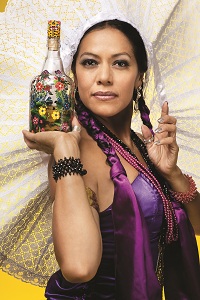 Lila Downs: A Song for My Father
                    Una Canción para Mi Padre
Sunday, March 10, 2013 at 4:00 PM
Ted Mann Concert Hall
2128 Fourth Street S
Minneapolis, MN 55455
Tickets: 
Adults: $50, $30
Child 6 - 16: $25, $15
U of M Student, Faculty, Staff, or Alumni: $40, $20
VIP: $150* 
*includes a $75 donation to the Allen Downs Photography and Moving Image Fellowship, a private reception with Lila Downs, and a copy of her newest CD/DVD Pecados y Milagros
Partial View Seating:  $15
This event is sponsored by the College of Liberal Arts External Relations Office
2012 Latin Grammy Award winning and 2013 Grammy Nominated artist Lila Downs will perform a concert in conjuction with the opening of a group exhibition that celebrates the career of artist and filmmaker Allen Downs and the Winter Quarter in Mexico Program that he led at the University of Minnesota.
Concert Run Time:
90 minutes, no intermission  
About Lila Downs
 (PDF)
About the Exhibit
Allen Downs Life and Work: Winter Quarter in Mexico
is organized by the
Katherine E. Nash Gallery
and curated by Linda Passon-McNally and Matt Bakkom. The exhibit will be on view from March 7 through March 30, 2013. An opening will take place at the gallery on March 10, immediately after the concert. All are welcome!
Make a gift to the
Allen Downs Photography and Moving Image Fellowship
 in the University of Minnesota Art Department.
Seating Chart for Ted Mann Concert Hall
 (PDF)
Suggested for age 6 and above.
---
Ordering Instructions:
To select your specific seat, please choose either Orchestra, Mezzanine, Tier 1 or Tier 2 by clicking on the appropriate image. Then choose your seat from the available choices by clicking on the seat. (Seats in gray are not available.) A box with the price should appear; click on the price to add the seat to your Selections. Click Add to Order to add the selections to your shopping cart..

When purchasing tickets online, you will be asked to create a username and strong password (8 or more characters, including uppercase & lowercase letters, numbers and symbols.)

Upon completion of your order, a confirmation will be emailed to you from BoxOffice@oit.umn.edu.  If you selected to have your tickets mailed to you, they should arrive via USPS within 7 to 10 business days. If you have any questions or problems while placing an order, please call our office at 612-624-2345 during our regular hours.

All sales final.  No exchanges or refunds.
Contact us:
U of M Tickets and Events
Northrop
84 Church St SE, Ste 13
Minneapolis, MN 55455
Phone:
612-624-2345
https://tickets.umn.edu
Email: 
umntix@umn.edu
Hours:
Mon - Fri: 10 AM to 5 PM