According to the CDC, as many as 1 in 4 people who receive opioid prescriptions for non-cancer pain struggle with addiction. In 2015, almost half of the 33,000 opioid deaths in America involved a prescription. This seminar series focuses on the complexities presented by this crisis.

The University of Minnesota's Center for Bioethics' Mini Bioethics Academy is a three night event to learn about and foster discussion on bioethical challenges in today's society. Mini Bioethics Academy is open to anyone interested in learning more about bioethics. Choose to attend one, two or all three sessions. Seating is limited, so we encourage you to register early to get a space.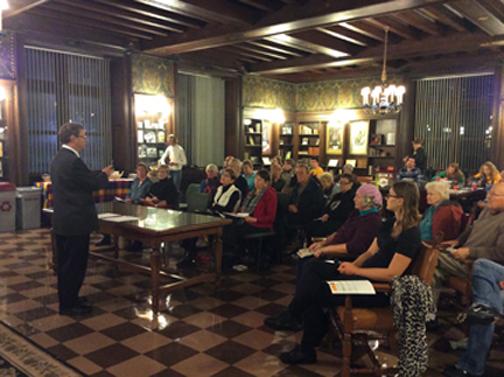 Session Info, Pricing and Registration
Individual Sessions
Adults/General Public:  $10 Advance / $15 at Door*
Students:  $5
*Registration at the door is based upon availability

 
---
Select Individual Sessions below:
Mini Bioethics Academy - Session 3: Opioid Addiction in America: Leveraging community expertise
Laura Palombi, Pharm.D., MPH, MAT, Assistant Professor, UMN College of Pharmacy, Duluth
Tuesday, February 6, 2018
6:30 - 8:30 PM*
Please note the extended time for this last session.
 

This presentation will identify ways that inter-professional community-engaged research, scholarship, and practice can be useful in combating opioid use disorder. Participants will be able to articulate the benefits of interprofessional community coalitions in mobilizing against opioid use disorder, explain the goals of treatment courts and key components of drug courts in addressing opioid use disorder and describe multiple methods of engaging with health care systems and professionals to improve care for patients with opioid use disorder. Dr. Palombi will be followed by a personal story of addiction. Most discussions of the opioid crisis tend to create a gap between "addicts" who are most likely to die of overdose, and "non-addicts" who are just an accident away from opioid addiction. Matthew F. Filner is a professor of political science who will discuss how and why his serious accident turned into opioid addiction.

Note: Online registration closes on Feb 5 at 4:30 PM; Walk-in registration will begin at 6 PM on Feb 6
Previous sessions in this series
Mini Bioethics Academy - Session 1: Opioid Addiction in America: Where do we stand?
Dana Farley, MDH Alcohol and Drug Prevention Policy Director
Tuesday, January 23, 2018
6:30 - 8:00 PM
 
How did the opioid epidemic became a major killer in Minnesota? More Minnesotans die from opioid overdoes than in traffic accidents! In this healthiest of states, some Minnesota groups have the highest rates of opioid overdose deaths in the nation. Engage in a lively discussion of how Minnesota got to this point (national and state trends), learn what opioids and emerging synthetics are driving the increases in deaths, addiction, and newborns needing help.
 
---
Mini Bioethics Academy - Session 2: Opioid Addiction in America: Reframing public perceptions and policy solutions
Sarah Gollust, PhD, Associate Professor, UMN School of Public Health
Tuesday, January 30, 2018
6:30 - 8:00 PM
 
Sarah Gollust will discuss what is known about public perceptions of the opioid crisis and particularly what policy solutions Americans find acceptable. She will also discuss the roles of the media in reinforcing certain policy narratives and the important role of stigmatizing attitudes toward opioid users in beliefs about the crisis and in considerations of its future trajectory.

 
---
About the Center for Bioethics
The mission of the Center is to advance understanding concerning ethical issues in biomedical research, health care and the life sciences, with a focus on the rights and interests of patients, research participants, and the public.

The Center carries out this mission by conducting original interdisciplinary research and scholarship, offering educational programs and courses, fostering public discussion and debate, and assisting in the formulation of public policy. The Center provides education in bioethics for University students, faculty, and staff; professionals in health care and related fields; and interested members of the general public.
For program information:
Center for Bioethics
N504 Church St SE
410 Delaware Street SE
Minneapolis, MN 55455
Ph:  612-624-9440
Fax:  612-624-9108

Em: bioethx@umn.edu

www.bioethics.umn.edu
Contact us:
U of M Tickets and Events
Northrop
84 Church St SE, Ste 13
Minneapolis, MN 55455
Phone:
612-624-2345
https://tickets.umn.edu
Email: 
umntix@umn.edu
Hours:
Mon - Fri: 10 AM to 5 PM