Complexity:
Dutch & American Housing
October 6 - 8, 2017
How do we build equitable housing that:
• Incorporates mixed-income households?
• Includes rental and purchase opportunities?
• Is financed in new ways?
• Is architecturally innovative and diverse?
Hosted by The U of M School of Architecture and
the Goldstein Museum of Design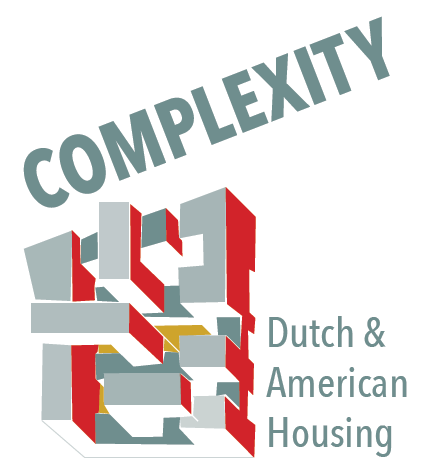 The symposium will address best housing practices by bringing 12 Dutch presenters representing four Dutch projects (designer, developer, urban planner, government officials, etc. depending upon the project).  Local politicians, designers, developers and builders will host field trips to significant housing in the Twin Cities.
By providing an opportunity for substantive exchange between housing professionals and citizens from the Netherlands and the United States about how housing is designed, financed and built, the two groups can learn from each other to develop new practices.
The Dutch approach to housing includes:
The concept that housing is a right
A strong orientation to planning
A vision of housing as an urban fabric
Concern for mix of household incomes
Complex housing contrasts with the approach to density taken in the United States and elsewhere, in that it typically incorporates non-housing functions along with a variety of housing types, to create a housing project with a diversity of inhabitants and a visually rich architectural expression.
---
Location, Cost & Registration
Smith Hall
207 Pleasant Street
Minneapolis, MN 55455
Cost:
Early Bird Event Registration - through August 15: $250
Event Registration August 16 - October 2: $300
Saturday Tours: $30 (limit of 30 registrants)*
Sunday Tours: $20 (limit of 30 registrants)*
Friday Keynote Registration Only: Free and open to the public. 
Event Registration covers:
welcome and farewell receptions, keynote addresses, continental breakfasts, Saturday salon dinners and morning presentations. Event registration limited to 200 people. Tours are extra. Friday night events are open to the public at no cost, but require registration (keynote addresses and welcome reception).
*Tours limited to 30 people. Additional registrants will be placed on a wait list. If there is sufficient interest, a second tour will be implemented. If not, fee will be refunded. Notification will take place by September 1 or earlier.
Saturday Salon Dinner Buffet Menu:
APPETIZER
McNamara Garden Salad with Parmesan Peppercorn Dressing with cucumbers, tomatoes and sweet red onion
Regional Hard and Soft Cheese Platter with fresh fruit, berries, candied nuts and flatbreads
 
MAIN COURSE
Grilled Salmon with Beet Horseradish and Tangerine Sauce 
Grilled Chicken Breast with Dried Cherry-Rosemary Sauce
Vegetarian Lasagne with Wild Mushrooms, Artichokes and Roasted Red Peppers
 
Cilantro Garlic Baby Red Potatoes
Vegetable Saute with Fresh Herbs and Shaved Parmesan
 
DESSERT BUFFET
Assorted Miniature Desserts
Certified Organic and Free Trade Dark Roast Coffee, Decaffeinated Coffee and Hot
Tea served with sugar, cream, sweeteners and lemon
 
BEVERAGES
Classic Brand Beer, Wine & Soda
Continuing Education Credits:
Information on Continuing Education Credits will be available July 1. If you have already registered at that time, you will be contacted when additional informaiton is available.
For more detailed information on the symposium please see the symposium website at http://z.umn.edu/complexitysymposium
Click here
to purchase the book
Complex Housing: Designing for Density
by Julia Williams Robinson.
---
For registration questions contact the Ticket Office at
umntix@umn.edu
For other symposium questions contact Julia W. Robinson at
robin003@umn.edu