TORT presents: Top Gunner
Friday, April 6, 2018 at 7:00 PM
Saturday, April 7, 2018 at 7:00 PM

Ted Mann Concert Hall
2128 Fourth Street South
Minneapolis, MN 55455

Cost:
$20  Adult
$12  UMN Student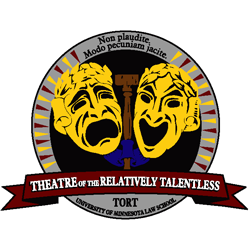 The Theatre of the Relatively Talentless (TORT) is a student group based in the University of Minnesota Law School that puts on a full-length parody musical every year. This year we are parodying the 1980s classic "Top Gun," set in the U of M Law School in the 1980s. The writers, actors, musicians and crew members for TORT are all law students themselves, and this musical is a chance to get creative.
In 1986, the top University of Minnesota Law Students are chosen as members of the prestigious Mock Trial team and to compete in the national championships. Maverick is a loose cannon who will do anything to win while his rival Iceman prefers to play by the rules. Can this team work together to bring gold to the U of M or will things fall apart in their attempts to become the Top Gunner?
Note: some material may not be appropriate for small children.
Contact us:
U of M Tickets and Events
Northrop
84 Church St SE, Ste 13
Minneapolis, MN 55455
Phone:
612-624-2345
https://tickets.umn.edu
Email: 
umntix@umn.edu
Hours:
Mon - Fri: 10 AM to 5 PM