Mini Medical School:
Medical Mysteries: Navigating Complex Health Cases
October 2 - 30, 2017
Monday Evenings for 5 weeks
6:00 PM to 8:30 PM
(Registration and experiential activities, 5-6 p.m.)
Location:
Malcolm Moos Health Sciences Tower
Room 2-650
515 Delaware St SE, Minneapolis, MN 55455
Early Registration:  August 1 - Sept 1 at 11:59 PM:   $60 for all registrants

Registration Cost: September 2 - October 2:
$80 - General Public
$65 - U of M Faculty/Staff/Students and UMAA Members
$65 - Fairview and UM Physicians Employees
$65 - Students
 
For its 37th session, Mini Medical School continues its mission to explore how researchers and clinicians in the University of Minnesota Academic Health Center (AHC) are advancing what we know about health - from the common to the most complex questions - in Minnesota and around the world.
Learn about these issues and more! Join us for Mini Medical School's 36th session, where you'll learn from AHC experts who are innovating the way we treat health-related issues and the way we can live our best lives.
Ever wondered what it's like to be a health sciences student? Here's your chance.

Each semester, the Academic Health Center presents Mini Medical School, a unique perspective into the health sciences at the University of Minnesota. Once a week for five weeks, students – ranging in age from high school students to retirees – with a shared interest in health embark on a journey examining the scientific foundations of health and disease. Presented in a language everyone can understand, your guides are internationally renowned University of Minnesota experts who are shaping the way health care is delivered locally and globally.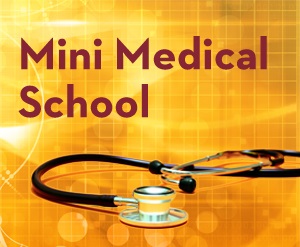 In addition to learning from our world-renowned faculty in the classroom, students have the opportunity to take part in hands-on, experiential activities before most classes. Designed to give attendees a glimpse into ways that today's health sciences students are learning, activities include exploring the latest medical devices, new therapies an up-close look at specimens.
Enrolling in Mini Medical School will give you the opportunity to:
♦  Learn from the University of Minnesota's world-class experts
♦  Participate in hands-on learning activities
♦  Hear about leading-edge research and new medical therapies
♦  Engage in discussion with other students who have a shared interest in the health sciences
Even better, there is
no prerequisite
,
no entrance exam
and
no major financial commitment
! Simply sign up for this series of affordable evening classes.
Questions: Email:
minimed@umn.edu
; Phone: 612-624-5100
Contact us:
U of M Tickets and Events
Northrop
84 Church St SE, Ste 13
Minneapolis, MN 55455
Phone:
612-624-2345
https://tickets.umn.edu
Email: 
umntix@umn.edu
Hours:
Mon - Fri: 10 AM to 5 PM