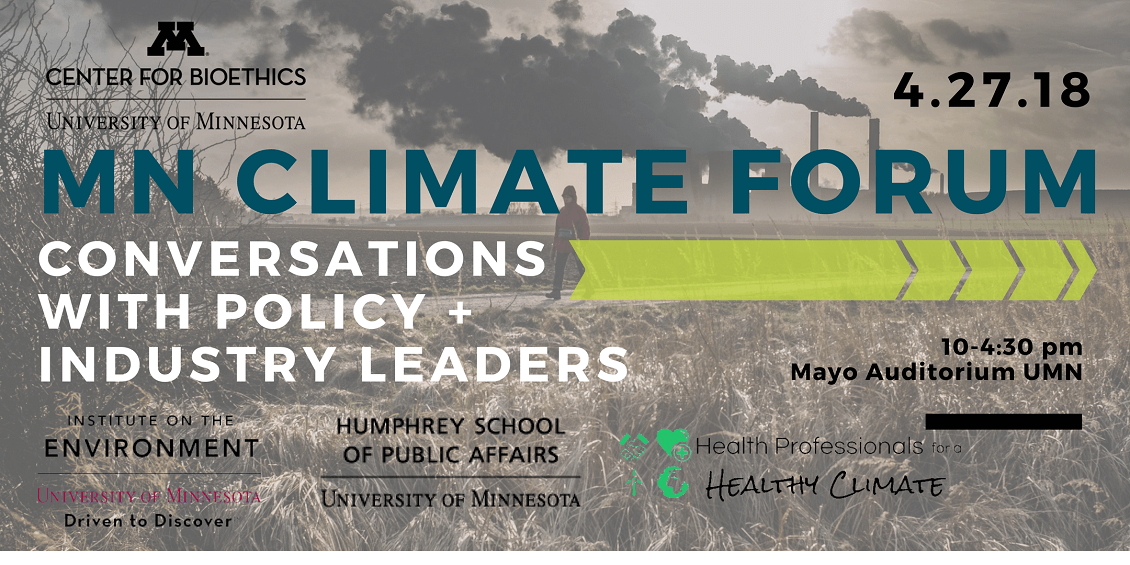 Where do business and policy intersect in the fight against climate change?

Join sustainability leaders for a day of peer-to-peer sharing of actions and realities in mitigating climate change and adapting for a better future for our environment and public health. Business and non-profit leaders, researchers, sustainability professionals, policy experts, students, and anyone interested in the intersection of public and private efforts to address climate change are invited. Listen and engage with two panels: one with experts from the policy, advocacy, and legal fields and another with Minnesota industry leaders from healthcare, consumer products, and commercial real estate.

Panelists will showcase their specific impact and achievements in reducing greenhouse gas emissions in Minnesota, define the obstacles inherent to their company and industry, and lay out their goals for future, scalable climate action.

Following the panel discussions, stay to reflect on perspectives and strategies and connect with fellow attendees and speakers.
Registration Info
Friday, April 27, 2018
10:00 AM to 4:30 PM
---
Advance Registration*:
General Public/ UMN Faculty & Staff:  $15
UMN Students:  $5
*additional fees will apply at time of registration
---
Day of Event Registration:
General Public/ UMN Faculty & Staff:  $25
UMN Students:  $10
**This option will be based upon space availability. All day of event registration will be payable by cash or check only.**
Registration Pricing
Program Schedule:
10 - 10:30 am Registration / Check-in

10:30-10:45 am Opening remarks:
Susan Craddock, PhD,  Director, Center for Bioethics, Andrew Jameton, PhD, Professor Emeritus, University of Nebraska Medical Center
 
10:45 am-12:30 Public Sector Panel
Moderated by Joel Wu, JD, MPH, MA, Fellow, Clinical Ethics Dept, Children's Minnesota, Senior Lecturer, Senior Fellow, Division of Health Policy and Management, School of Public Health, UMN
 
12:30-1:15 pm Lunch
 
1:15-3 pm Private Sector Panel
Moderated by Jennifer Schmitt, Program Director and Lead Scientist, NorthStar Initiative at the Institute on the Environment, UMN
 
3 - 3:15 pm Synopsis and Closing Remarks
 
3:15 - 4:30 pm Networking
 
FAQ, Parking & Directions
What can I bring into the event? Coffee and water as well as boxed lunches and soda will be provided. Bring a waterbottle for water. 

How can I contact the organizer with any questions? Please email bioethx@umn.edu

What are my transportation/parking options for getting to and from the event? The closest parking options are Washington Ave Ramp and East River Road Garage. There are some meters in the area but parking a ramp is advised. You can find parking ramp rates here . 

Directions from  Washington Avenue Ramp
Take the Southwest elevator to the basement/tunnel.
Upon exiting the elevator, follow the tunnel towards Moos Tower/Phillips-Wangensteen Building.
Upon entering Moos Tower, continue going west and follow the signs towards the Mayo Memorial Building (you will pass through Phillips-Wangensteen Building).
Just before the Freshii restaurant, turn right down the corridor leading to the Mayo Memorial Building.
Our office is located along this corridor connecting the Mayo Memorial Building to the Phillips-Wangensteen Building, just past the Medical Devices Center.
Directions from 
East River Road Garage
Take the North elevator to level 1 (Plaza).
Turn right (northeast) on Delaware Street toward Church Street.
Cross over Church Street to enter the Mayo Memorial Building.
Go straight past the main elevators.
Turn left just beyond the elevators (following the sign towards the Phillips-Wangensteen Building) and make an immediate right turn down the corridor.
Our office is located along this corridor connecting the Mayo Memorial Building to the Phillips-Wangensteen Building on the left-hand side.
---
About the Center for Bioethics
The Center for Bioethics helps students, professionals, policy makers, and the public confront and understand ethical issues in health, health care, new biomedical technologies, the environment, and the life sciences. We teach, publish, and help create policy through our outreach. We also offer programming that includes public engagement as part of our commitment to respond to issues and concerns important not just to the academic community but to communities within the Twin Cities and beyond.
For program information:
Center for Bioethics
N504 Church St SE
410 Delaware Street SE
Minneapolis, MN 55455
Ph:  612-624-9440
Fax:  612-624-9108

Em: bioethx@umn.edu

www.bioethics.umn.edu
Contact us:
U of M Tickets and Events
Northrop
84 Church St SE, Ste 13
Minneapolis, MN 55455
Phone:
612-624-2345
https://tickets.umn.edu
Email: 
umntix@umn.edu
Hours:
Mon - Fri: 10 AM to 5 PM