TCGMC presents Rise Up!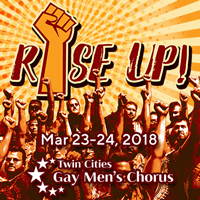 Friday, March 23, 2018 at 8 PM
Saturday, March 24, 2018 at 8 PM

"We rise again in the faces of our children. We rise again in the voices of our song!"
Join TCGMC with Guest Artistic Director Jane Ramseyer Miller* for RISE UP – a concert celebrating the power of people to change the world!
 
RISE UP  includes music of civil rights movements from around the world that have inspired our activism today, as well as music from current movements including Glory  from the movie Selma, Still I Rise  from the poetry of Maya Angelou, the powerful Til It Happens to You , and singers from the Twin Cities' Women's Choir performing I Can't Keep Quiet  from the 2017 Women's March.
 
The concert features the Minnesota premiere of Seven Last Words of the Unarmed,  a 14-minute choral work in 7 movements, based on the final words of seven unarmed black men who died at the hands of authority figures. A powerful and emotional composition, Seven Last Words of the Unarmed will be conducted by special guest Steve Milloy**. 
 
Let your voice ring out in 2018 to confront the rhetoric of hate and fear, and create a world where all voices are valued!
 
*Jane Ramseyer-Miller is Artistic Director of One Voice Mixed Chorus, Minnesota's GLTBA chorus and currently serves as Artistic Director of GALA Choruses.
 
**Steve Milloy is the Artistic Director of Cincinnati Men's Chorus. He is also the Music director of the Martin Luther King Coalition Chorale and artistic director of the Diverse City Youth Chorus in Cincinnati, Ohio. 

 
Location:
Ted Mann Concert Hall
2128 Fourth St S
Minneapolis, MN 55455
The Saturday, March 24 at 8 PM performance will be ASL interpreted.  The interpreter will be located on the right side of the stage. An area near that location has been designated as ASL Seating, with locations on the Orchestra and Mezzanine levels.  
Ticket Information
Individual Tickets
Reserved seating. Ticket prices vary based on seating location. Discounts available for subscribers, groups of 6 or more, and children 12 and under. Purchase early for best seating and for best price; prices increase the week of the performance. If you have questions about ordering, or prefer to order by phone, please call us at 612-624-2345.  
Friday at 8 PM
$43  Golden Circle
$41  Price 1
$32  Price 2
$25  Price 3
Saturday at 8 PM
$48  Golden Circle
$46  Price 1
$36  Price 2
$28  Price 3
Student Rush
tickets will be offered 1 hour prior to each performance, based upon availability, at the Ted Mann Box Office. A valid student ID is required. Seating will be on a best available basis.  Student rush tickets are $10 each
**Please note:  online ticket sales end 2 hours prior to concert.  In person sales at Ted Mann Concert Hall will begin 1 hour prior to concert.
---
Spring Season Tickets
Spring Season Packages available online now! Please select the day below to order your season package.
$74  Golden Circle
$70  Price 1
$54  Price 2

$84  Golden Circle
$80  Price 1
$62  Price 2

Season Pricing maps: 
Ted Mann Concert Hall
---
Parking Suggestions:
21st Ave Ramp
19th Ave Ramp
Information and details about TCGMC's 37th season subject to change.

All ticket sales are final.
 
Twin Cities

Gay Men's Chorus

528 Hennepin Ave

Ste 307

Minneapolis, MN 55403

 

P:  612-339-7664

F:  612-332-8141
Contact us:
U of M Tickets and Events
Northrop
84 Church St SE, Ste 13
Minneapolis, MN 55455
Phone:
612-624-2345
https://tickets.umn.edu
Email: 
umntix@umn.edu
Hours:
Mon - Fri: 10 AM to 5 PM