** Please note: Online registration has closed.  To register for this event, please call Diane Kampa at 612-626-4826.  Limited registration may be available at the door. **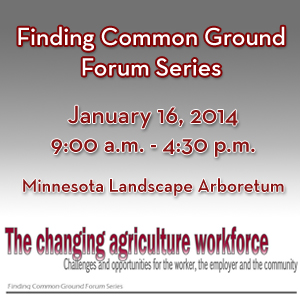 Finding Common Ground:
The Changing Agriculture Workforce


Challenges and opportunities for the worker, the employer, and the community
Thursday, January 16, 2014
MacMillan Auditorium
Minnesota Landscape Arboretum
3675 Arboretum Drive
Chanhassen, MN 55318
8:30 AM - Check-in and Continental breakfast
9:00 AM - Forum begins
4:30 PM - Forum ends
Cost:
$60   General Public Registration
$50   Students 
Limited space available for this event.
Continental breakfast and lunch included in registration.

Please note:  If you have any difficulty in registering online, please call the U of M Tickets & Events office at 612-624-2345 and we will be glad to assist you. You can reach us via email at umntix@umn.edu.
About the forum
The increasing global demand for food has implications for immigration policy, regulatory oversight, and production methods. Often overlooked is the health and well-being of agriculture workers including safety, access to health care, and successful integration into local communities. A comprehensive understanding of what it takes to assure the safety, health and welfare of the worker, reliable and productive employees, and vibrant rural communities will benefit all stakeholders.
Ensuring healthy and productive workers
requires a broad perspective, inquisitive minds, and a commitment to collaborate. Please join us on Thursday, January 16, 2014 at the Minnesota Landscape Arboretum for a working forum on the challenges and opportunities that the changing agriculture workforce brings for workers, employers and the community.
As a forum participant, you will:
• Explore the complexities of the agriculture workforce
• Identify shared interests in worker health and productivity
• Strengthen appreciation and respect for different perspectives
• Contribute to innovative approaches for ensuring healthy and productive workers
---
For questions about the forum, please contact Diane Kampa at
dkampa@umn.edu
or 612-626-4826.
Parking & Directions
Please register each attendee separately to enable the information for each person to be registered properly. When registering online, you will be asked to create a username and strong password (8 or more characters, including uppercase & lowercase letters, numbers and symbols.) You can use the same account/login/password to register additional attendees. Upon completion of your order, a confirmation will be emailed to you from umntix@umn.edu. If you have any questions or problems while placing an order, please call our office at 612-624-2345 during our regular hours.
All sales final.  No cancellations or refunds.
Contact us:
U of M Tickets and Events
Northrop
84 Church St SE, Ste 13
Minneapolis, MN 55455
Phone:
612-624-2345
https://tickets.umn.edu
Email: 
umntix@umn.edu
Hours:
Mon - Fri: 10 AM to 5 PM  
Availability Key

 

  Excellent 

 

  Good 

 

  Fair 

 

  Limited/Full

 

  Event not available


*if no icon appears, please click the Buy link