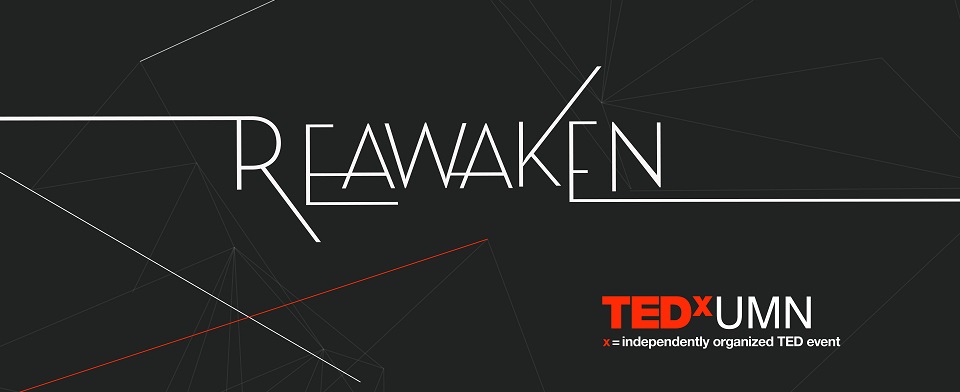 TEDxUMN: Reawaken
Friday, April 29, 2016
6:00 PM to 10:00 PM
Carlson Family Stage at Northrop
84 Church St SE
Minneapolis, MN 55455
General Admission Seating
5:00 PM   Check in opens
5:30 PM   Doors open 
6:00 PM   Event begins
Registration Cost*:
$30   General Public
$15   Student
*Each person will need to register separately, as there are registration questions that require individual responses for your nametag.
Brief responses appreciated.
TEDxUMN Reawaken: After an idea has been around for a long time we think we understand it in its entirety. At this event we will assess our understanding of old ideas and begin to see how these concepts can now be reawakened in our life to make a meaningful change in how we see the world.

Online registration ends at 4 PM;
registration available at the door.  
---

Information about speakers will be released periodically.  We will release this information gradually as the event draws closer. 


TEDxUMN has a passion for bringing together the great thinkers at the University of Minnesota and giving them the opportunity to share their ideas worth spreading and discuss our shared future. We provide these great people the opportunity to share these ideas on a global stage and with an incredibly diverse audience. We believe in the power of ideas to change attitudes, lives and ultimately the world.
 
Additional Resources:
Website: www.tedxumn.com
Facebook: https://www.facebook.com/TEDxUMN/
Instagram/Twitter: @tedxumn
 

Sign up for the TEDxUMN newsletter
Contact us:
U of M Tickets and Events
Northrop
84 Church St SE Suite 013
Minneapolis, MN 55455
Phone:
612-624-2345
Fax:  612-625-4008
https://tickets.umn.edu
Email: 
umntix@umn.edu
Hours:
Mon - Fri: 10 AM to 5 PM