Emergency Response 24-Hour Training - $590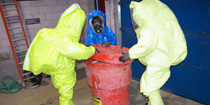 The 24-Hour course consists of three days of lectures, discussions, classroom demonstrations, small group exercises, and hands-on training. This Operations Level course is designed to provide training required by OSHA 1910.120 to respond to hazardous substance releases with the purpose of protecting persons, property, and the environment from the effects of the release and to contain the release. Emphasis will be placed on responding in a defensive manner without actually trying to stop the release.
Topics include: relevant state and federal regulations, health hazard recognition, hazard and risk assessment, respiratory protection, selection and use of personal protective equipment, decontamination, control and containment of spills, emergency response plans, termination procedures, and the incident command system.
Course Location: 
Thompson Center for Environmental Management, Conference Room, 501 23rd Ave SE, Minneapolis, MN 55414
This course offers 24 Continuing Education Hours.
All sessions are from 8:00 AM to 5:00 PM
More than one person attending?
  If registering multiple people, please register each person separately.  There are questions at the end of the registration process that relate to the individual registrant and will help us provide accurate check-in information to the instructor, as well as proper certificates of completion to the registrant.  Thank you!
Please note:
All participants in the 24-Hour Emergency Response Training are required to have a physician complete a medical evaluation and clearance form prior to the course.
Please select the
Select
link next to the date you wish to register to attend:
PAYING BY CHECK?
If you would like to send in a check for your registration instead of paying by credit card, please contact U of M Tickets and events to register.
---
All hazardous materials courses are designed to meet OSHA training requirements under 29CFR1910.120(q) (HAZWOPER) for hazardous materials emergency responders as mandated by the Superfund Amendments and Reauthorization Act (SARA).
For course content:
Hazardous Waste Worker Training
2221 University Ave SE, Ste 110
Minneapolis, MN 55414
Ph:  612-626-2596 or 612-624-6023
Fax:  612-624-6866
www.hazmat.umn.edu
Contact us:
U of M Tickets and Events
Northrop
84 Church St SE, Room 013
Minneapolis, MN 55455
Phone:
612-624-2345
https://tickets.umn.edu
Email: 
umntix@umn.edu
Hours:
Mon - Fri: 10 AM to 5 PM