Emergency Preparedness -
4-Hour Hospital Decontamination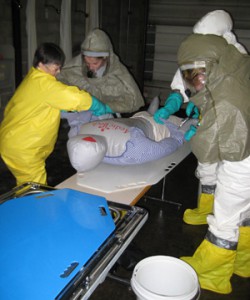 4 Hour Hospital Decontamination Training: 
$100
This program is geared toward emergency receivers, safety and maintenance personnel at hospitals and health care facilities. Included is a review of the Incident Command System, Personal Protective Equipment, how to select the right PPE, and how to put it on and take it off properly. A review of decontamination shelters and procedures, and hands on simulation ties the day together.

Course Locations: 
Murray County Medical Center
2042 Juniper Ave
Slayton, MN 56172
This course offers 4 Continuing Education Hours.
This session is from 12:30 PM to 4:30 PM
---
Registration Notes:
Individual Participant Registration:
Each participant should register separately. There are questions at the end of the registration process that relate to the individual registrant and will help us provide accurate check-in information to the instructor, as well as proper certificates of completion to the registrant.  Thank you!
Individual registration, online or by phone, requires payment by credit card. We accept payment by Visa, MasterCard, Discover, or American Express.
Organizational registration:
Organizations may opt to be invoiced to pay by check for their registered participants.
If your organization needs to pay by check, please contact Dan Wozney at 612-626-7082 or wozne002@umn.edu for assistance.
---
All hazardous materials courses are designed to meet OSHA training requirements under 29CFR1910.120(q) (HAZWOPER) for hazardous materials emergency responders as mandated by the Superfund Amendments and Reauthorization Act (SARA).
For course content:
Hazardous Waste Worker Training
2221 University Ave SE, Ste 110
Minneapolis, MN 55414
Ph:  612-626-2596 or 612-624-6023
Fax:  612-624-6866
www.hazmat.umn.edu
Contact us:
U of M Tickets and Events
Northrop
84 Church St SE, Room 013
Minneapolis, MN 55455
Phone:
612-624-2345
https://tickets.umn.edu
Email: 
umntix@umn.edu
Hours:
Mon - Fri: 10 AM to 5 PM