Waste Site Worker: 40-Hour Training - $980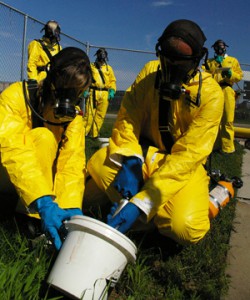 40 Hour Waste Site Worker Training:  $980
The course builds on the 24 hour training and integrates 16 hours of additional training including instructional activities, lectures, discussions, classroom demonstrations, and small group exercises.
---
Registration Notes:
Individual Participant Registration:
Each participant should register separately. There are questions at the end of the registration process that relate to the individual registrant and will help us provide accurate check-in information to the instructor, as well as proper certificates of completion to the registrant.  Thank you!
Individual registration, online or by phone, requires payment by credit card. We accept payment by Visa, MasterCard, Discover, or American Express.
Organizational registration:
Organizations may opt to be invoiced to pay by check for their registered participants.
If your organization needs to pay by check, please contact Dan Wozney at 612-626-7082 or wozne002@umn.edu for assistance.
---
All hazardous materials courses are designed to meet OSHA training requirements under 29CFR1910.120(q) (HAZWOPER) for hazardous materials emergency responders as mandated by the Superfund Amendments and Reauthorization Act (SARA).