Waste Site Worker: 24-Hour Training - $470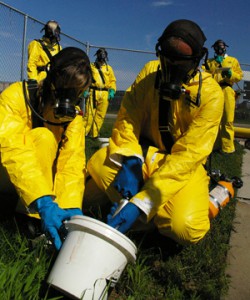 24 Hour Waste Site Worker Training:  $470
The 24 hour course consists of three days of lectures, discussions, classroom demonstrations, and small group exercises. Emphasis will be placed on responding in a defensive manner without actually trying to stop the release.
Topics include: relevant state and federal regulations, health hazard recognition, hazard and risk assessment, respiratory protection, selection and use of personal protective equipment, decontamination, control and containment of spills, emergency response plans, termination procedures, and the incident command system.
Course Location: 
Online via Zoom or UMN Twin Cities East Bank Campus, 2221 University Ave SE, Minneapolis, MN 55414


This course offers 24 Continuing Education Hours.
All sessions are from 8:00 AM to 5:00 PM
---
Registration Notes:
Individual Participant Registration:
Each participant should register separately. There are questions in the registration process that relate to the individual registrant and will help us provide accurate check-in information to the instructor, as well as proper certificates of completion to the registrant.  Thank you!
Individual registration, online or by phone, requires payment by credit card. We accept payment by Visa, MasterCard, Discover, or American Express.
Organizational registration:
Organizations may opt to be invoiced to pay by check for their registered participants.
If your organization needs to pay by check, please contact Dan Wozney at wozne002@umn.edu for assistance.
---
All hazardous materials courses are designed to meet OSHA training requirements under 29CFR1910.120(q) (HAZWOPER) for hazardous materials emergency responders as mandated by the Superfund Amendments and Reauthorization Act (SARA).  
For course content:
Hazardous Waste Worker Training
2221 University Ave SE, Ste 110
Minneapolis, MN 55414
Ph:  612-626-2596 or 612-624-6023
Fax:  612-624-6866
www.hazmat.umn.edu
Contact us:
U of M Tickets and Events
Northrop
84 Church St SE, Ste 13
Minneapolis, MN 55455
Phone:
612-624-2345
https://tickets.umn.edu
Email: 
umntix@umn.edu
Hours:
Mon - Fri: 10 AM to 5 PM