Select the planetarium showing of your choice to purchase combination or planetarium-only tickets.
For more details on the Whitney and Elizabeth MacMillan Planetarium, visit the Bell's website .

If you are a Bell member, you must first log in to see your discounted member prices on eligible tickets and events.

Bell members can use the email address on their membership to log in for member pricing. Don't know your account information? Reset your password or contact us at belltickets@umn.edu or 612-626-9660.
Planetarium Show Descriptions

Habitat Earth *
Recommended for ages 8 and up; 45 minutes
From the tallest trees to the smallest fungi, dig into the dynamic relationships in our connected world. Learn about the human impact on the world around us and the steps we can take to maintain human and ecological networks. Narrated by Frances McDormand, this cinematic film features stunning renderings of both biological and human-built networks (and of how they intersect), taking show-goers on an incredible, immersive journey through the interconnectedness of life on Earth.
 

One Giant Leap 
Recommended for all ages; 45 minutes 
The latest Bell original production, One Giant Leap allows audiences to stand on the surface of the Moon with Neil Armstrong, using archival recordings of the momentous moments of the Moon landing, transformed into a 360 experience. Presented by planetarium staff, this show explores what this event meant to the generation that experienced it as well as those that came afterward and discusses what might be the world's next "giant leap."

 
Out of This World! 
Recommended for all ages; 50 minutes 
Explore our Solar System in this dynamic live show. Guided by planetarium staff, audience questions and feedback will help drive the program. We might visit the smallest planet or largest moon. Maybe you'll be the first humans to land on Mars or fly through the rings of Saturn.


Phantom of the Universe: The Hunt for Dark Matter *
Recommended for ages 10 and up; 50 minutes 
Take a journey of discovery to unlock the mystery of dark matter. From the Big Bang and the role of dark matter in the formation of galaxies, to its anticipated discovery at the Large Hadron Collider, explore one of the mysteries of the universe as the hunt for this mysterious particle unfolds.
 

Space Exploration: Missions to Other Worlds
Recommended for ages 10 and up; 50 minutes
During this collaborative learning experience, the audience works together to make engineering decisions as they design a spacecraft to travel to an alien world. Should the spacecraft be nuclear- or solar-powered? An orbiter or a lander? With these choices and more, the audience will steer the mission to its success—or failure.
 

The Sun, Our Living Star *
Recommended for ages 8 and up; 50 minutes
The Sun has been shining on our world for 4.5 billion years. It is our nearest star and our planet's powerhouse, the source of the energy that drives our winds, our weather, and all life. Discover the secrets of our star in this planetarium show and experience never-before-seen images of the Sun's violent surface in immersive full-dome format.


Under the Stars 
Recommended for ages 4-8 and their families; 35 minutes
Come on a journey as we tell a story about objects in our sky. Young learners use their bodies and voices as they learn to make observations about the sky, Sun, Moon, and stars. They'll even become astronauts and fly to the Moon.
 
 
* Show includes a live Minnesota Night Sky program, in which our presenters take you on a tour of the night sky, with a guide to the planets, stars, and constellations you can see from Minnesota.  
 

 
Select Show Below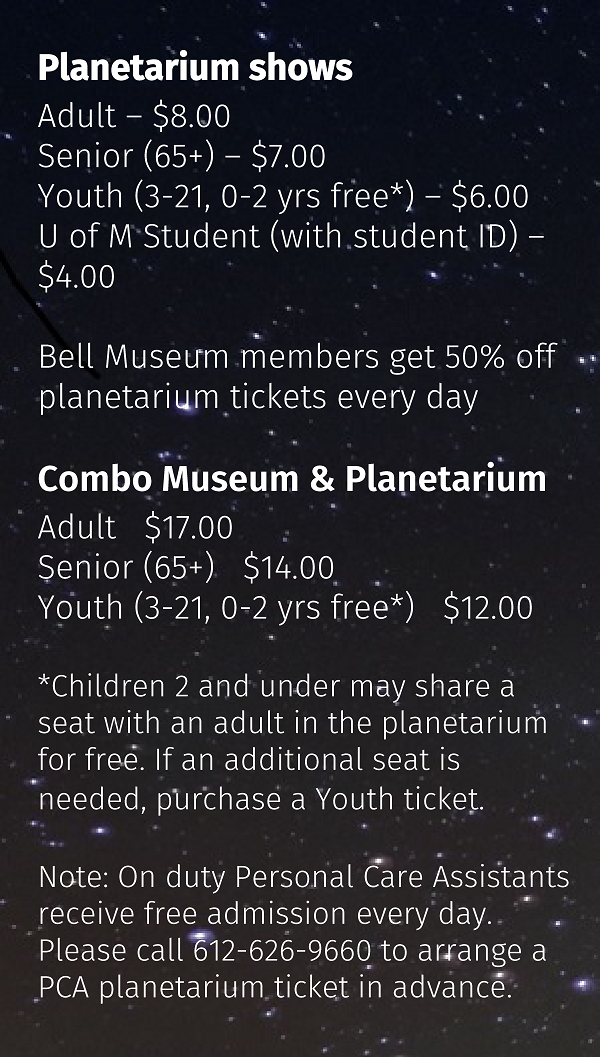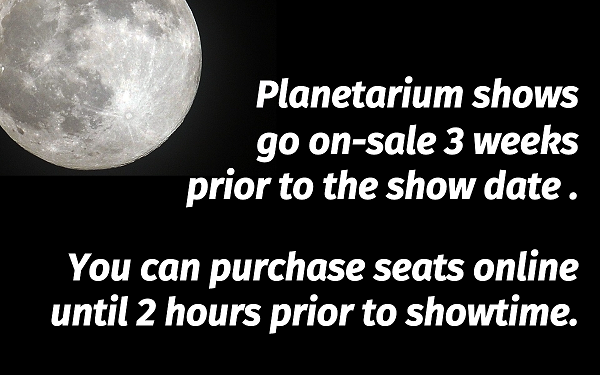 To purchase tickets by phone,
please call 612-626-9660
Monday - Friday
10 AM to 5 PM.