Panel Conversation: Locally Grown photographers Joseph Allen, Laura Migliorino, and Tom Arndt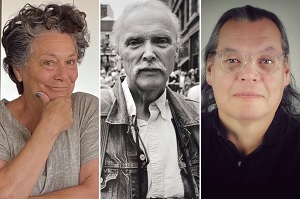 Presented in conversation with the exhibition,
LOCALLY GROWN: DOCUMENTARY PHOTOGRAPHY OF MINNESOTA COMMUNITIES,
and moderated by
PAO HOUA HER
.
Documentary photography refers to the style of photography which chronicles both historical events and the hum of everyday life. Within our world of never-ending streams of information, documentary photography allows us to slow down and contemplate the world around us. Join us for an artist panel and discussion with photographers who are dedicated to documenting the world around them, featuring
JOSEPH ALLEN, TOM ARNDT
and
LAURA MIGLIORINO
.
Unlike photojournalism, a form of photography that focuses on breaking news stories and current events, documentary photography favors long-term projects, ongoing social issues, and stories that are better understood through a series of photographs featuring related subjects. Though documentary photography has undoubtedly captured historic events and locations, everyday life has always been tied to the practice as well.
Showcasing photographs by Minnesota artists drawn from museum's permanent collection,
LOCALLY GROWN: DOCUMENTARY PHOTOGRAPHY OF MINNESOTA COMMUNITIES
is curated by
2019-20 O'BRIEN CURATORIAL FELLOW ASHLEY COPE
.
.
Full event details including artist bios and parking information can be found on the WAM calendar Locally Grown Panel Conversation event page. 

Sliding scale - $0, $5, $10, $15, $20

Registration closes Wednesday, April 5, 2023 - 3:00 pm CT
Do you have questions about accessibility?
Please reach out to us at weismanprograms@umn.edu with your questions and concerns.
Note: If you'd like to request ASL interpretation or a similar service, please email us at least 2-3 weeks before the event to make your request.