Artist Talk: Skawennati on Indigenous Futurism and World-building
WEDNESDAY, APRIL 19, 6 P.M.
TICKETS: PAY-AS-YOU-WISH (INCLUDING FREE OF CHARGE, IF YOU SO CHOOSE).
REGISTRATION IS REQUIRED TO ATTEND.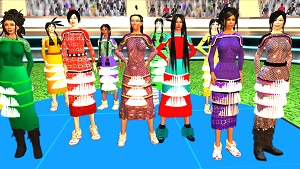 Image credit: Skawennati,TimeTraveller™, 2007 – 14.
Digital video (with sound) in nine episodes.
Collection of the Carl and Marilynn Thoma Foundation.
Image courtesy of the artist and the Thoma Foundation.
Join us for an artist talk featuring internationally renowned multimedia artist SKAWENNATI, who will discuss the intersection of her practice and Indigenous Futurism, specifically as found in her world-building work TimeTraveller™, currently on view as part of the exhibition MESSAGE FROM OUR PLANET: DIGITAL ART FROM THE THOMA COLLECTION.

TimeTraveller™ features nine "machinima" episodes—a hybrid of "machine" and "cinema," referring to a way of producing animated films using computer graphics and Second Life, an online platform for world-building. Through her work, Skawennati investigates concepts of time and self, offering a postcolonial rereading of the history of the Indigenous peoples of Turtle Island..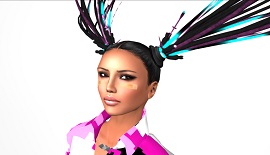 Image courtesy of the artist

SKAWENNATI investigates history, the future, and change from her perspective as an urban Kanien'kehá:ka woman and as a cyberpunk avatar.  Her machinimas, still images, textiles and sculpture have been presented internationally and are included in the collections of the National Gallery of Canada, the Musée d'art contemporain de Montreal and the Thoma Foundation, among others.

Full event details including artist bio and parking information can be found on the WAM calendar Skawennati event page.

Sliding scale - $0, $5, $10, $15, $20

Registration closes Wednesday, April 19, 2023 - 3:00 pm CT
Do you have questions about accessibility?
Please reach out to us at weismanprograms@umn.edu with your questions and concerns.
Note: If you'd like to request ASL interpretation or a similar service, please email us at least 2-3 weeks before the event to make your request.