Artist Talk: "Perspectives on Water" with Courtney M. Leonard
WEDNESDAY, NOVEMBER 29, 6 P.M.

This event is being unexpectedly postponed: Due to a burst pipe, the Weisman Art Museum garage is temporarily closed until the affected pipe and sprinkler system can be repaired.
In order to ensure all speakers and attendees are able to access the event with ease, "Perspectives on Water" will be postponed until spring/summer 2024. We will continue to provide updates regarding this program and share the rescheduled date when it's set.
Patrons who purchased tickets will be refunded in full.
In the meantime, consider spending time with a
rich, multimedia interview
the Weisman's Interpretation Assistant Eileen Bass conducted with artist Courtney Leonard in September, 2023.
You can also visit Leonard's site-specific work,
BREACH: Logbook 22 | Cull
in the Weisman's Riverview Gallery, during museum open hours.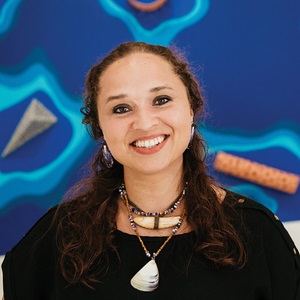 Photo courtesy of the artist
Ceramic artist Courtney M. Leonard (Shinnecocke) will discuss her work Breach Logbook 22: Cull in conversation with Dr. Kate Beane, Executive Director of the Minnesota Museum of American Art and adjunct faculty in American Indian Studies at the University of Minnesota, and Dr. Roxanne Biidabinokwe Gould, a professor emerita of Indigenous Education and Environmental Studies at the University of Minnesota Duluth.

Leonard's body of work examines histories of water and seeks to activate conversations about industrial impacts on water, inter-species connections, climate change, and the shifting relationships between humans and water, as informed by the past. Presented in conversation with the exhibition, Ebb/Flow, currently on view at WAM. Q&A to follow.

Full details can be found on the WAM website's event page.
Do you have questions about accessibility?
Please reach out to us at weismanprograms@umn.edu with your questions and concerns.
Note: If you'd like to request ASL interpretation or a similar service, please email us at least 2-3 weeks before the event to make your request.