ICED BODIES
This performance is presented by the Weisman as part of the
2023 GREAT NORTHERN FESTIVAL.
There will be a reception throughout and following the performance in WAM's adjacent Riverview Gallery.
PERFORMANCE: SATURDAY, JANUARY 28, 2:30 – 4 P.M. | SHEPHERD ROOM
RECEPTION: 4 – 5 P.M. | DOLLY FITERMAN RIVERVIEW GALLERY
TICKETS: PAY-AS-YOU-WISH (INCLUDING FREE OF CHARGE, IF YOU SO CHOOSE).
REGISTRATION IS REQUIRED TO ATTEND.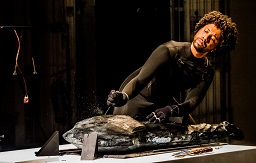 Photo courtesy of the artists
The iconic 1972 performance Ice Music for London by Charlotte Moorman is reimagined for today with ICED BODIES. An ice cello, dyed black and embedded with electronics is played by musician SETH PARKER WOODS and translated into sound by composer SPENCER TOPEL, paying tribute to an avant-garde past while reflecting on the Black bodies lost to mental illness and violence in the African American community even now.

As a conceptual statement, ICED BODIES serves as an ode and response to those struggling minds, and bruised, tattered, and broken black bodies on display in the media by supplanting the cold body – the frozen body – of those lost to mental illness and violence in black communities, with that of a black ice cello.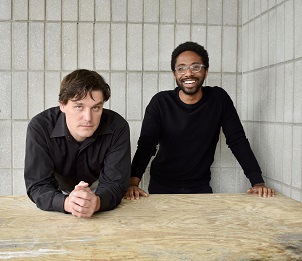 Photo courtesy of the artists

TOPEL | WOODS is an artist collective creating visual art, music, installation and experimental media. Their work prompts audiences and visitors to consider the role of art in relation to society, technology, and identity. Formed in 2017 by Spencer Topel and Seth Parker Woods, Topel & Woods' first major project was ICED BODIES: Ice Music for Chicago at The Arts Club of Chicago. Subsequently, they presented ICED BODIES at the Huddersfield Contemporary Music Festival in 2019. They continue to develop new work addressing society, culture, and race in performance and installation projects.

Full event details including artist bios and the Weisman's artist talk with the duo can be found on the WAM ICED BODIES event page. 
Sliding scale - $0, $5, $10, $15, $20

Registration closes Friday, January 27, 2023 - 3:00 pm CT
Do you have questions about accessibility?
Please reach out to us at weismanprograms@umn.edu with your questions and concerns.