Raptor Zoomie
Invite a bird of prey to your online event!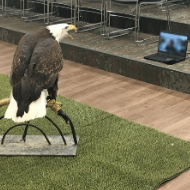 Surprise friends, family, employees, and co-workers with a new face in the lineup as one of our raptors (eagle, owl, hawk, falcon, or vulture) and education expert join your next digital gathering for 15 minutes.
How it works:
Schedule your Raptor Zoomie online here, this is where you will provide your meeting link so our raptor guest can join.
Once your Raptor Zoomie is scheduled, purchase your Zoomie by selecting one of the options below.
Surprise your meeting with your raptor guest and have your questions answered by one of our experts!
Cost:
Bring an eagle to your gathering: $75
Bring an owl, hawk, falcon, or vulture to your gathering: $50
We will work with you to make this an exciting and memorable group experience and can customize to your needs.  
---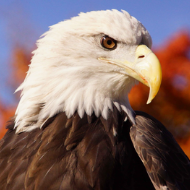 Eagle Raptor Zoomie
15 minutes @ $75.00
Have a Bald Eagle join your gathering for a 15-minute educational experience you will not forget!
 
---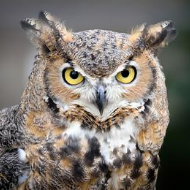 Non-Eagle Raptor Zoomie
15 minutes @ $50.00
Have a hawk, falcon, owl, or vulture join your gathering for an up-close 15-minute educational experience!
 
Scheduling or Program Questions?
Please contact:
The Raptor Center
raptored@umn.edu
---
Registration questions?
Contact:
U of M Tickets and Events
Phone:
612-624-2345
Email: 
umntix@umn.edu
Hours:
Mon - Fri: 10 AM to 5 PM