Virtual Field Trips
The Easy and Fun Way to Ignite Student Engagement & Education
without having to leave the classroom or home!
In today's chaotic learning environment, educators and parents need safe and convenient yet engaging and meaningful teaching experiences without leaving home or the classroom. Break up the school day with a custom live virtual Raptor Center field trip to the world of owls, hawks, falcons, eagles, and vultures. Let the Raptor Center Education experts guide students through different 30-minute interactive field trip experiences that each include touring different parts of the Raptor Center facility, meeting live raptors, asking questions, and learning some fascinating raptor-related education content which can be adapted for any subject.
The Minnesota Raptor Center, part of the University of Minnesota College of Veterinary Medicine, houses a veterinary hospital that takes care of over 1,000 sick and injured raptors per year and an education team that inspires and engages over 100,000 people every year with the power of animal ambassador birds.
Meet The Birds
In Meet the Birds, we virtually welcome students into our education center which houses 32 education ambassador raptors representing 12 different species of birds.
Students join a Raptor Education Expert on a quick virtual behind the scenes tour of the facility, going into areas that are never included in a normal in-person tour- like inside flight cages! This experience is LIVE and students get to interact real time with the experts.
Getting waaaaay closer than they ever could have in person, through the power of virtual technology, students will meet a variety of live ambassador birds and learn about all the cool things that allow them to survive and thrive in the wild.
Finally, students learn about an important conservation message from one of our Bald Eagle ambassadors as we learn how to take care of the ecosystems around us.
Learning targets may include adaptations, ecosystems, habitats and more!
Length: 30 minutes live; you are allowed to record the program for students unable to attend the live session
Included Materials: Downloadable grade-specific Raptor Center scavenger hunt worksheets for grades K-6 and supplemental learning resource packets for grades 7-12. Field trips can also be customized to a teacher's request for specific learning objectives.
Grades: K-12, our education experts will adapt content to the appropriate age group.
Group Size: All group sizes are welcome; we can accommodate up to 300 digital connections.
Cost: $125/field trip

After completing your payment you will receive a confirmation email. Within 2 business days Raptor Center staff will contact the purchaser with details on how to schedule your virtual field trip. If you would like to schedule your field trip first and then pay, click here.
Register
---
---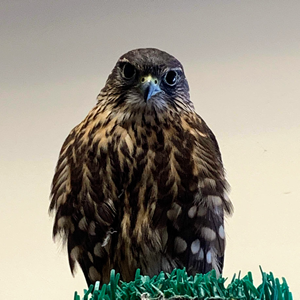 Meet The Birds Field Trip
$125
Invoice Your Organization
Your organization will be invoiced by the University for the total cost of the virtual field trip(s) with this option. Available to organizations only.
With this option, you are not paying online at this time for your field trip and the cost will show $0.00 in your registration confirmation.
Invoices will be emailed in 3-5 business days.
You will be asked to provide billing contact name, address, email, and phone as part of registration.

---

Meet The Birds Field Trip
$125
EFS Payment | UMN Departments Only
The EFS string provided with registration will be billed for the full cost of the Virtual Field Trip.
With this option, you are not paying online at this time for your Virtual Field Trip and the cost will show $0.00 in your registration confirmation.
Enter your own contact information as part of registration.
You will be asked later in the process to provide accounting contact information along with the EFS string to be charged.
Please note: Your UMN ID is not integrated to log in with this system.If you choose to create a username/password as part of registration, we encourage you to use your email address for your username.

---
Make A Gift to Support Virtual Field Trips
Donate to our Virtual Field Trip Fund! Our mission is to educate and inspire youth and help educators! We know that cost can be a barrier, so the Virtual Field Trip Fund will be used to cover costs to bring Virtual Field Trips to underserved youth that might otherwise be unable to afford a field trip experience.
$125 funds a Virtual Field Trip for an entire class
$25 provides five students with a Virtual Field Trip scholarship
Donor Choice - Gifts of any amount are always appreciated
Scheduling or Program Questions?
Please contact:
The Raptor Center
raptored@umn.edu
---
Registration questions?
Contact:
U of M Tickets and Events
Phone:
612-624-2345
Email: 
umntix@umn.edu
Hours:
Mon - Fri: 10 AM to 5 PM