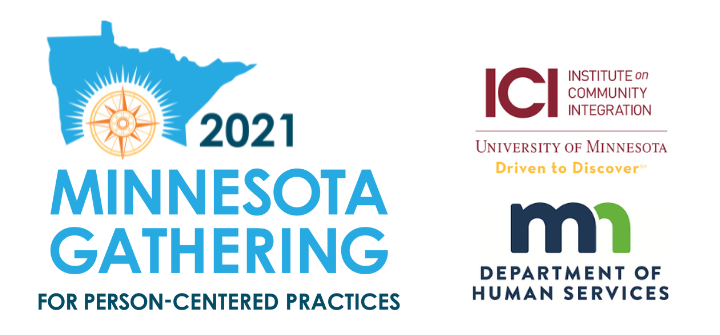 Oct 27 and 28, 2021

Online via Zoom

Registration fees:
$99 - Online Only Both Days

The Minnesota Gathering for Person-Centred Practices is an annual two-day event for individuals with disabilities and their family members, advocates, business partners, educational and community-based organizations who are interested in Person-Centered Practices and Positive Behavioral Supports.  The purpose of The Gathering is to create connections, dialog, share successes and learn together how we continue moving Minnesota in the direction of a being a Person-Centered place for people with disabilities to live. This year The Gathering is celebrating its fifth year and honoring how Minnesota has advanced Person-Centered Practices.


CEU Credit: Attendees will be provided 12 approved clock hours over two days. CEUs will be included in the program.

Registration deadline:  October 26, 2021 at 11:59 PM
 
---
Accessibility and Accommodations:
For questions about or to request accessibility accommodations please contact the MN Gathering Team at mngathering@umn.edu or call 612-626-3346. To request an accommodation such as, but not limited to materials in accessible formats for people with disabilities (braille, large print, electronic files, audio format) or an interpreter please email or call the MN Gathering Team. Two weeks advance notice will allow us to provide seamless access and accommodations. Please include as much detail as you can.
---
Registration information:

This registration process has been designed to require each person to register separately.  There are several questions that relate to each participant, so registration must be done on an individual basis.
If you need to pay by check, or your organization needs to be invoiced for your registration, please select the Conference Registration - Invoice My Organization for Payment option when registering. The UMTE Staff will contact you to gather additional information and update your registration.
You may also call U of M Tickets and Events to register or request assistance by phone at 612-624-2345, Monday through Friday, 10 AM to 5 PM.
Thank you.
---
Please Note:
If your organization requires to be invoiced for your registration,
Select the registration type of
Conference Registration - Invoice My Organization for Payment

The price will show as $0.00

Complete the registration online and our office will contact you for the details to update your registration with the proper amount due and to prepare the invoice for your organization.

University of Minnesota registrants should use the online registration with their PCard.
Contact us:
U of M Tickets and Events
Northrop
84 Church St SE, Ste 13
Minneapolis, MN 55455
Phone:
612-624-2345
https://tickets.umn.edu
Email: 
umntix@umn.edu
Hours:
Mon - Fri: 10 AM to 5 PM