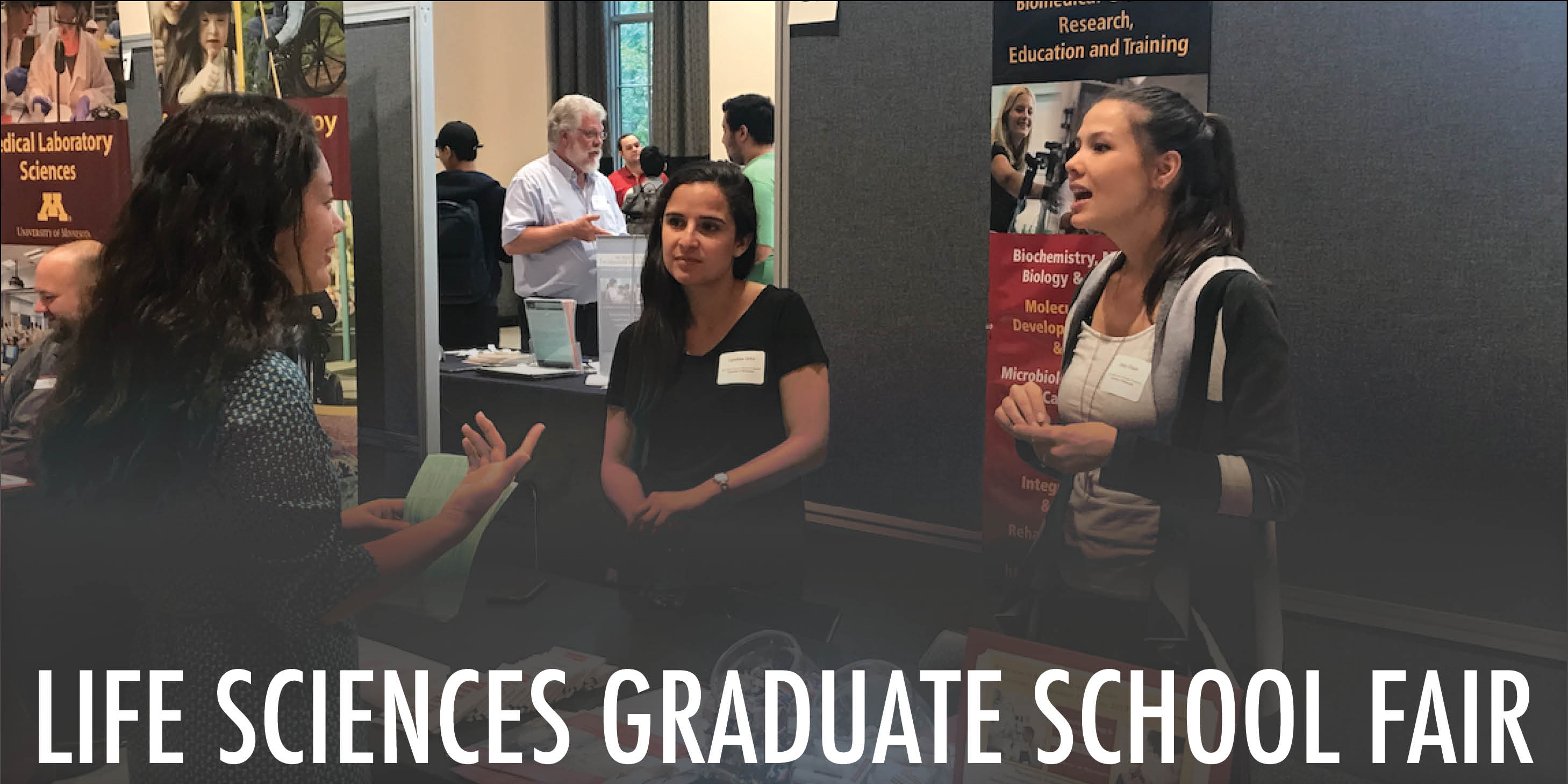 Open to master and Ph.D. programs in related to the biological sciences; molecular cellular developmental biology, genetics, microbiology, immunology and cancer biology, neuroscience, pharmacology, integrative biology and physiology, biochemistry, molecular biology and biophysics, biology, animal science, zoology, waste water management, population genetics, plant science, plant microbial biology, plant ecology, ecology, environmental programs, biotechnology, bioinformatics, bioethics, stem cell, genetic counseling, public health with a focus on epidemiology, biostatistics, law school programs related to environmental, medical device, public affairs: science, technology and environmental policy, health and patent law, business, public affairs, masters in pharmacy or other pharmacology related and M.D/Phd programs).

This fair will be for students in CBS and U of M students and alumni from all campuses (up to 2 years post graduation) with interest in the respective disciplines represented.

Please review this page for information on registration. More details will be sent to exhibitors closer to the event date.
Life Sciences Graduate School Fair
Friday, October 15, 2021
11 AM to 2 PM
Coffman Memorial Union
Great Hall, Ground Floor
300 Washington Ave SE, Minneapolis, MN  
Registration Information
Registration includes a 6 foot table (unskirted), lunch for up to two representatives and up to two parking vouchers.
Early Registration: June 28 - August 13, 2021
U of MN Exhibitor: $75
Non U of MN Exhibitor: $125
Regular Registration: begins August 14 - October 4, 2021  (Extended date!)
U of MN Exhibitor: $125
Non U of MN Exhibitor: $150
Additional table (includes 2 people):
Early Additional Table: 
June 28 - August 13, 2021
U of MN Exhibitor: $75
Non U of MN Exhibitor: $125
Regular Additional Table: 
August 14 - October 4, 2021
U of MN Exhibitor: $125
Non U of MN Exhibitor: $150
Additional Lunch:
$7.50 each
Table registrations include lunch for 2 people per table registration. Additional people will require a separate purchase of lunch.






The 2021 Life Sciences Graduate School Fair is being hosted by the College of Biological Sciences . We are committed to providing a comfortable, inclusive, and respectful environment for members of all communities. If there is information you feel would be helpful for us to know, such as accommodation needs, please include that information with your registration. If you have questions about the fair and wish to discuss them, please contact Lamar Roberts at careercbs@umn.edu or call 612-625-0262.

*online registration requires a credit card for payment at the time of registration.  If you wish to pay by check, please contact U of M Tickets & Events (UMTE) at 612-624-2345.   Checks must be made payable to "University of Minnesota" and sent to the UMTE office directly.
 
Schedule
Representative Check-in and Lunch:  10:00 AM to 11:00 AM
Fair Open to Students: 11:00 AM to 2:00 PM
Fair Ends:  2:00 PM
We encourage exhibitors to bring program materials, a name tag, and table cloth. Lunch will be available from 11:30 AM to 12:30 PM for all paid representatives. Please note any dietary restrictions as part of your registration.  
Resources: Directions, Maps, and Info
Parking Info:
Parking Vouchers will be provided at Check-In and can be used upon exit.   
East River Road Garage
is the nearest and most convenient parking ramp.  The parking ramp is actually connected to Coffman Union.  
For more information on parking, please visit 
http://campusmaps.umn.edu/east-river-road-garage
Directions to Coffman Memorial Union Great Hall from the East River Road Garage:
Take the parking garage elevator to the plaza level (Level "1") and walk north across Delaware Street to Coffman Memorial Union (CMU). Once inside, the Great Hall will be on your left.
In inclement weather, take the elevator to "Level A" and follow the signs to the "Gopher Way" tunnel to Coffman. You'll emerge in the basement of Coffman. Take the stairs, then the escalator up to the ground floor. The Great Hall will be on your left.
---
Additional Campus Links:
---
Things to Do and Places to Eat near the University of Minnesota
Contact us:
U of M Tickets and Events
Northrop
84 Church St SE, Ste 13
Minneapolis, MN 55455
Phone:
612-624-2345
https://tickets.umn.edu
Email: 
umntix@umn.edu
Hours:
Mon - Fri: 10 AM to 5 PM