Canceled TCGMC June Concert
April 22, 2020, NOON CST
 
Dear TCGMC Friends and Family,
 
I hope this note finds you and your loved ones healthy both physically and emotionally, although, I know the reality is that many of you are enduring significant loss and are actively experiencing the various phases of grief. From employment to vacations, graduation celebrations and, unfortunately, human lives, our world is having a profound shared experience as it relates to loss.
 
It came as no surprise, based on the long list of events that have been recently canceled, that we were informed by the University of Minnesota our Pride concert scheduled for June 19-20 has been canceled due to continuing safety concerns surrounding the coronavirus. This final mainstage performance ostensibly marks the end of our 39th season. However, I am grateful to share that members of TCGMC, while not being able to make music together in the same room, are relentless in fulfilling our mission of "building community" in the ways that are possible. We have experimented with various uses of technology to continue this mission and plans are underway for some exciting offerings we look forward to sharing with you soon. I've been filled with pride by the ways TCGMC members have come together to support each other during this time. From bi-weekly virtual "town hall" gatherings to virtual "talent shows" and online "watch parties," our singers are supporting each other and truly embodying our core values of courage, authenticity, joy, respect and accountability.
 
We are eager to celebrate our 40th season, and to make music together in the same space. As a result of being good financial stewards, the Chorus was on a sound base going into these challenging times. When the spring concerts were canceled, you, our loyal patrons, stepped up to donate a good portion of those ticket sales — thank you! To keep TCGMC strong and viable on the other side of the shutdown (and recovery), if you have purchased tickets for Stiletto Squares: Red Carpet Fails, we humbly ask you to consider donating the value of your tickets to TCGMC. If you hadn't had a chance to purchase your tickets, you can still make a donation to the chorus at http://tcgmc.org/support-us/individual-donations/.
 
To request a refund, please complete THIS  FORM , including your contact information and order number (seven digit code on the left side of your ticket). Patrons have until May 22 to request a refund; after which the value of the ticket will automatically convert to a donation. If you have any questions, please contact the U of M Ticketing and Events office at 612-625-5306 or umntix@umn.edu.
 
As we all spend more time at home, reflecting on what's going on around us, I hope we can listen more deeply, create more passionately, care for each other more intensely and love more heartily than we ever have before. And, that we can bring these practices with us to the other side. 
 
With PRIDE,
 
Kevin Stocks
Executive Director
 
 
Stiletto Squares: Red Carpet Fails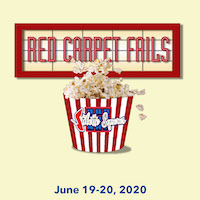 Canceled: Friday, June 19, 2020 at 8 PM
Canceled: Saturday, June 20, 2020 at 8 PM


Some of our best loved songs are the ones of stage and screen. Some of the truly best, in our opinion, are the ones that never won the awards. We are going to celebrate these musical underdogs and epic fails that may have been passed over for the trophy but continue to win in our hearts. So let's all go out to the lobby and get ourselves a treat – it's time for the next edition of Stiletto Squares: Red Carpet Fails! 


 
Location:
Ted Mann Concert Hall
2128 Fourth St S
Minneapolis, MN 55455
The Saturday, June 20 at 8 PM performance will be ASL interpreted.  The interpreter will be located on the right side of the stage. An area near that location has been designated as ASL Seating, with locations on the Orchestra and Mezzanine levels.  
Ticket Information
Individual Tickets
Reserved seating. Ticket prices vary based on seating location. Discounts available for subscribers, groups of 6 or more, and children 12 and under. Purchase early for best seating and for best price; prices increase the week of the performance. If you have questions about ordering, or prefer to order by phone, please call us at 612-624-2345.  
Friday at 8 PM
$45  Golden Circle
$43  Price 1
$34  Price 2
$27  Price 3
Saturday at 8 PM
$50  Golden Circle
$48  Price 1
$38  Price 2
$30  Price 3
Children under age 12 tickets are 50% off.
Student Rush
tickets will be offered 1 hour prior to each performance, based upon availability, at the Ted Mann Box Office. A valid student ID is required. Seating will be on a best available basis.  Student rush tickets are $10 each
**Please note:  online ticket sales end 2 hours prior to concert.  In person sales at Ted Mann Concert Hall will begin 1 hour prior to concert.
---
Parking Suggestions:
21st Ave Ramp
19th Ave Ramp
Information and details about TCGMC's 39th season subject to change.

All ticket sales are final.
 
Twin Cities Gay Men's Chorus
528 Hennepin Ave Ste 307
Minneapolis, MN 55403
P:  612-339-SONG (7664)
F:  612-332-8141
E: 
chorus@tcgmc.org
www.tcgmc.org
Contact us:
U of M Tickets and Events
Northrop
84 Church St SE, Ste 13
Minneapolis, MN 55455
Phone:
612-624-2345
https://tickets.umn.edu
Email: 
umntix@umn.edu
Hours:
Mon - Fri: 10 AM to 5 PM