Homecoming Beer & Cider Sampler


Lot M-2
outside James A. Malosky Stadium
Duluth, Minnesota

Price: $10 per person
All guests must be 21 and older

Note: Advance Registration will close at 4:00 PM on October 15. Day of event registration will be available based on a space-available basis. Payment by cash or credit card will be accepted.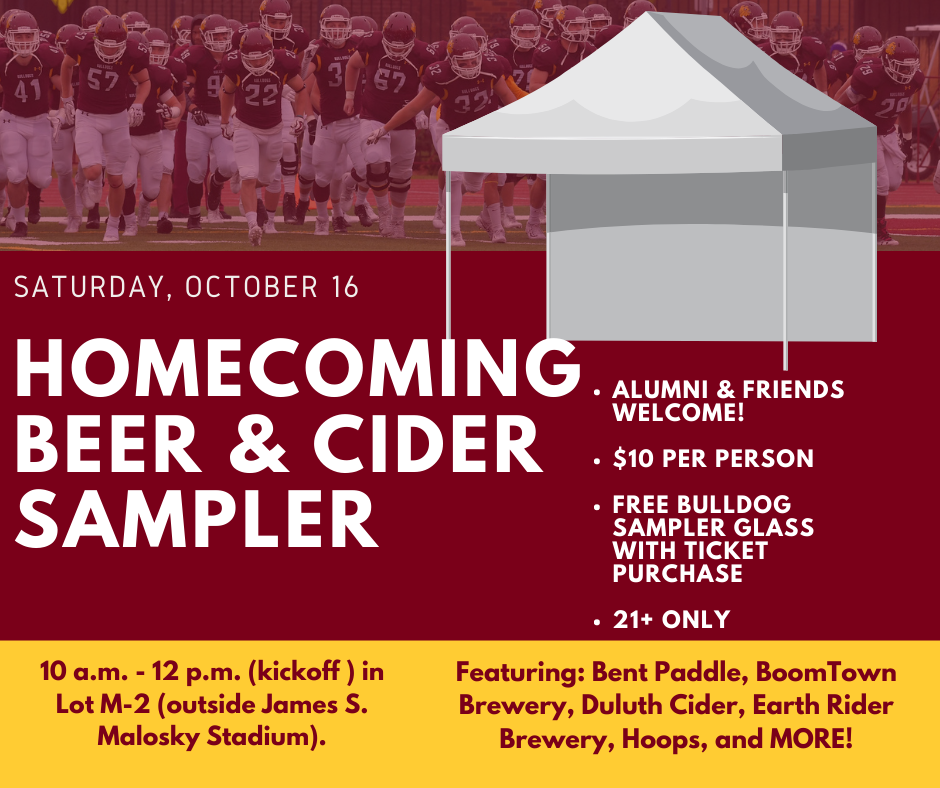 ---
You're invited to enjoy local craft beverages at the 2nd annual UMD Homecoming Beer & Cider Sampler from 10 a.m. - 12:00 noon The Homecoming Beer & Cider Sampler tent will be located in the official tailgate area, Lot M-2, outside James A. Malosky Stadium.

Registered guests will receive a complimentary Bulldog sampler glass with the purchase of their $10 ticket. Tickets for the sampler event are limited. All guests must be 21 and older. The Homecoming Beer & Cider Sampler will feature beverages from local companies such as Bent Paddle, BoomTown Brewery, Duluth Cider, Earth Rider Brewery, Hoops, and MORE!

Parking info: 
For tailgating and other fun activities, Pay Lot G, Gold Lot C and Maroon Lot M-2 will be closed for public parking tomorrow.

Parking is available in the tailgate areas for a small fee (more info HERE), or free parking can be found in other lots on campus (see parking map HERE).

Presented by UMD Alumni Relations
---
UMD Alumni Relations is committed to creating an inclusive environment that is safe and comfortable for all alumni and guests. Participants in UMD alumni activities and programs are subject to the policies created by the Board of Regents, including the Code of Conduct. Guests who violate Board of Regents policy will be unable to participate in UMD Alumni Relations activities and programs.

Masks are required to be worn inside all UMD buildings. Alumni Relations supports guests who choose to wear masks outside at UMD activities. Additionally, Alumni Relations encourages all members of the community to get vaccinated against COVID-19. Learn more about the vaccine at UMD's Safe Campus website.
---
COVID-19 UPDATE
 We are available to assist you
by email at
umntix@umn.edu,
by phone at 612-624-2345,  
Monday through Friday,
10 AM to 5 PM.
We encourage you to visit
the 
Safe Campus website
for the most recent COVID-19
updates from the
University of Minnesota.
Thank You. Stay Safe. Be Well.  
Contact us:
U of M Tickets and Events
Northrop
84 Church St SE, Ste 13
Minneapolis, MN 55455
Phone:
612-624-2345
https://tickets.umn.edu
Email: 
umntix@umn.edu
Hours:
Mon - Fri: 10 AM to 5 PM