Family Weekend Faculty Discussion Panel about "The Martian"
Presented by the Department of English, Linguistics and Writing Studies, Biology, Psychology, Math, and the Kathryn A. Martin Library

Saturday, October 14, 2023
2:00 - 3:30 PM
Kathryn A. Martin Library Rotunda
416 Library Drive


Duluth, Minnesota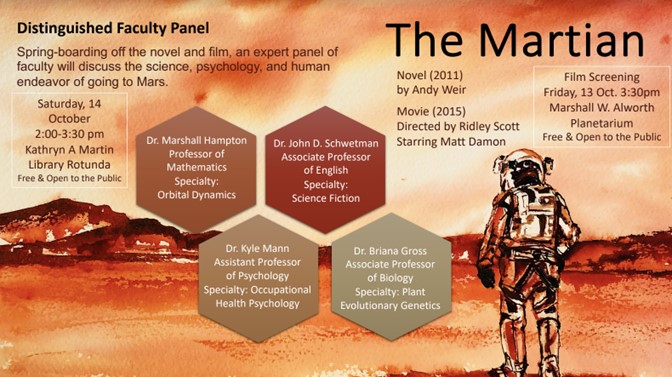 Price: Free, registration required
---
Learn together as a family! An expert panel of faculty will discuss the science, psychology, and human endeavor of going to Mars. The discussion will be based on the movie/book "The Martian."

Panelists include:
Dr. John Schwetman (Literature - Science Fiction)
Dr. Marshall Hampton (Math - Orbital Dynamics)
Dr. Briana Gross (Biology - Botany)
Dr. Kyle Mann (Psychology)
Moderated by Dr. Krista Sue-Lo Twu

*Note, if you haven't seen the movie, "The Martian," we will be showing it on Friday, October 13 at 3:30 PM in the Planetarium. Registration is required.

For additional information about Family Weekend, please visit student-life.d.umn.edu/familyweekend
Registration closes Thursday, October 5 at 11:59 p.m. CT
Register for the Panel Discussion:
---
UMD Alumni Relations is committed to creating an inclusive environment that is safe and comfortable for all alumni and guests. Participants in UMD alumni activities and programs are subject to the policies created by the Board of Regents, including the Code of Conduct. Guests who violate Board of Regents policy will be unable to participate in UMD Alumni Relations activities and programs.
---
Event Questions?
Contact:
Alumni Relations
Email:
alumni@d.umn.edu
Phone: 218-726-7055
---
Registration questions?
Contact:
U of M Tickets and Events
Phone:
612-624-2345
Email: 
umntix@umn.edu
Hours:
Mon - Fri: 10 AM to 5 PM