2022 Hubert H. Humphrey Public Leadership Awards
Please join us as we recognize and celebrate excellence in public leadership at the 18th Public Leadership Awards, presented by the Humphrey School of Public Affairs.

These awards honor individuals and organizations that have contributed to the common good through leadership and service.
May 25, 2022
5:30 PM
Reception followed by dinner and program
Single tickets: $150






McNamara Alumni Center
200 Oak Street SE
Minneapolis, MN 55455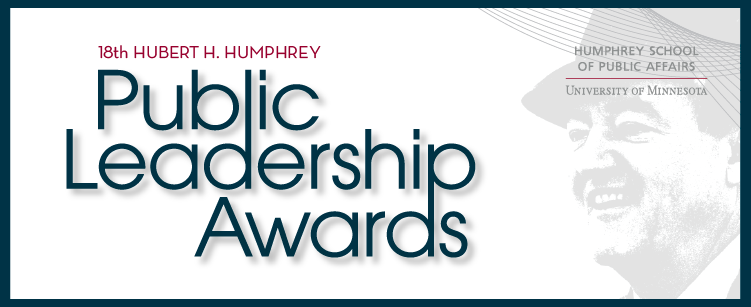 ---
The 18th Hubert H. Humphrey Public Leadership Award Recipients:
REATHA CLARK KING, emeritus chairman of the board of the National Association of Corporate Directors and a pioneer in chemistry, higher education, business, philanthropy, and community service.
---
ACOOA ELLIS, (Humphrey School MPP '07) senior vice president of community impact at Greater Twin Cities United Way and a champion of social justice initiatives.
---
TRACEY WILLIAMS-DILLARD, CEO and publisher of the Minnesota Spokesman-Recorder, a trusted source for Minnesota's African American community.
---
XCEL ENERGY, a Minnesota-based company setting sustainability goals while providing power to millions of homes and businesses across eight Western and Midwestern states.
---
The 18th Public Leadership Awards are co-sponsored by Best Buy and Target.
*$75 is a tax-deductible contribution to the Humphrey School of Public Affairs. A receipt for your donation will be sent by the University of Minnesota Foundation. When registering, the process will begin with the event registration and then proceed to the donation component. At the end of the process there will be several questions to answer regarding your registration for seating, special needs, and nametag.  If there are any questions, please call U of M Tickets & Events for assistance. Thank you.
Contact us:
U of M Tickets and Events
Northrop
84 Church St SE, Ste 13
Minneapolis, MN 55455
Phone:
612-624-2345
https://tickets.umn.edu
Email: 
umntix@umn.edu
Summer 2022 Hours:
Mon - Fri: 10 AM to 3 PM
Please note:
Our office is open for phone or email only during Summer 2022.
On performance days, the office will open 2 hours prior to event time for in-person assistance.
Thank you!