The Friends of the University of Minnesota Libraries
Friends Forum: A Series for Curious Minds
The Secret Life of Libraries
An evening of radio antics with A Prairie Home Companion veterans,
Sue Scott, Tim Russell and Richard Dworsky
produced especially for the University of Minnesota Libraries.
Libraries are full of intrigue and mayhem (and not just on the shelves!) One thing is for sure, "Alternative Facts" are in the fiction section!
Registration Options - Campus Club Members
The Campus Club Member Tickets*:
$15.00   Show only - doors open at 6:30 PM
$30.00   Dinner and show package, dinner at The Campus Club: 5:30 - 6:30 PM 
Buffet dinner menu:
Peterson Craft Meats Braised Beef with Artisanal Mushrooms, and Sherry Demi-glace, GF, DF
Cabbage Rolls Stuffed with Minnesota Wild Rice and Roasted Vegetables with Heirloom Tomato Sauce, GF, DF,V
Rosemary and Garlic Roasted Potatoes, GF, DF, V
Green Beans with Fried Shallots and Lemon Oil GF, DF, V
Lemon Bundt Cake with Chantilly Cream, or House-made Sorbet, GF, DF, V
Registration has closed.

Dinner and Show Package - SOLD OUT!
---
Please note: 
Dinner Registration will close at 12:00 AM on Monday, December 2.
Show Registration will close at 12:00 AM on Monday, December 9.
*ticket fees will be applied at time of purchase 
Our Featured Guests
| | | | | | | |
| --- | --- | --- | --- | --- | --- | --- |
| Sue Scott |   |   | Tim Russell |   |   | Richard Dworsky |
| |   |   | |   |   | |
---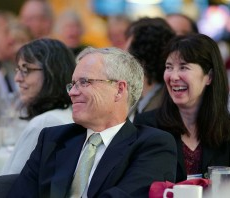 THE FRIENDS OF THE LIBRARIES is a vibrant group that combines advocacy for the Libraries with an exciting outreach program celebrating the love of books, authors, knowledge, and curiosity.
 
continuum.umn.edu/Friends
Contact us:
U of M Tickets and Events
Northrop
84 Church St SE, Room 013
Minneapolis, MN 55455
Phone:
612-624-2345
https://tickets.umn.edu
Email: 
umntix@umn.edu
Hours:
Mon - Fri: 10 AM to 5 PM
Sat: 10 AM to 2 PM