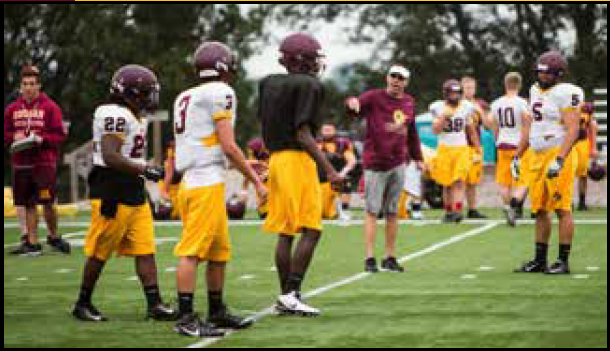 2017 Cougar Team Football Camp
For high school athletes, grades 9-12
Thursday, July 20 - Friday, July 21, 2017
3:00 PM to 8:00 PM
$35 per player in advance; $45 at the door (Walk-ins welcome)
(includes beverages and afternoon snacks each day and camp T-shirt)
$650 team fee (20 or more players): Head Coach signs up team;
email camp coordinator Marty Hoffman at
hoff0506@morris.umn.edu
Come test your team's abilities on the turf at Big Cat Stadium. This two-day camp emphasizes individual development within a team framework. Players will receive individual position instruction from UMM staff each day followed by a variety of live competitions in the evening. Coaches will have the ability to observe their athletes, schemes, and strategies at work in a competitive atmosphere prior to the start of the season. A certified athletic trainer will be on site each day. This is a great opportunity to gain live experience before the 2017 season officially begins. For players in grades 9–12.

Daily Schedule (Thursday and Friday)
| | | |
| --- | --- | --- |
| 3:00 p.m. |   | Check-in, Big Cat Stadium |
| 4:00 p.m. |   | Warm-Up |
| 4:15 p.m. |   | Offensive individual - UMM Staff |
| 4:40 p.m. |   | Transition |
| 4:45 p.m. |   | Defensive individual - UMM Staff |
| 5:10 p.m. |   | Break (snacks, drinks provided) |
| 5:30 p.m. |   | Team Competitions |
| 6:00 p.m. |   | 7-on-7/OL/DL session |
| 6:30 p.m. |   | Scrimmage |
| 8:00 p.m. |   | Off the field |
Note on Contact Period
Minnesota State High School League requires an acclimation period of three days of noncontact before exposure to contact periods. Make sure to hold noncontact practices before attending camp.
---

Location: University of Minnesota Morris, Big Cat Stadium/Athletic Fields, 600 East 4th Street, Morris, MN 56267
Please register each camper separately. You will need to provide specific information on each camper individually.
Additional camp information, including any necessary insurance information, photo release, etc., will be sent separately later this summer.

 
About 2017 Cougar Football Camp

About Coach Robert Cushman, Camp Director
• Third season at Morris
• 35 years college experience (38 years total)
• 16 years head college coaching experience
• first season at Morris produced more wins than previous two seasons combined
---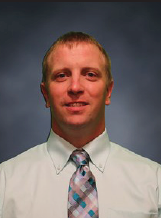 About Coach Marty Hoffman '05, Camp Coordinator
• 4-year football starter at Morris
• 12 years of college coaching experience
• previous football coach at Minnesota State University, Moorhead; Carleton College; and South Dakota State University
• current Cougar defensive and strength coordinator, linebackers
Contact us:
Office of Student Activities, Conferences and Special Events
University of Minnesota, Morris
600 E 4th St
Morris, MN 56267
Location:
UMM Student Center
Lower Level, Room 15
Morris, MN
Walk-up hours:
8:30 AM to 4 PM, M - F
Tickets:
320-589-6077
Student Activities:  320-589-6080
Fax:  320-589-6084
Email:  
ummstact@morris.umn.edu