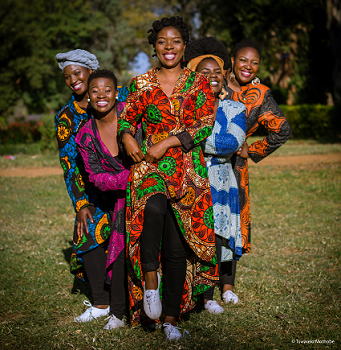 Nobuntu
Saturday, October 6, 2018
Edson Auditorium
7:30 PM


Individual Ticket Prices:
$20    General Adult
$20    UMM Faculty/Staff
$15    Senior Citizens 65+
$15    Youth under 18
$7      UMM Students

A five-part a'cappella vocal ensemble made up of young women from Bulawayo, Zimbabwe, Nobuntu celebrates through their songs and dance the identities of African women. Their voices and energy and their breathtaking performances combine for an experience that communicates with the human side of anyone.

This presentation is supported by the Arts Midwest Touring Fund, a program of Arts Midwest that is funded by the National Endowment for the Arts, with additional contributions from the Minnesota State Arts Board and the Crane Group.
Contact us:
Office of Student Activities, Conferences and Special Events
University of Minnesota, Morris
600 E 4th St
Morris, MN 56267
Location:
UMM Student Center
Lower Level, Room 15
Morris, MN
Walk-up hours:
8:30 AM to 4 PM, M - F
Tickets:
320-589-6077
Student Activities:  320-589-6080
Fax:  320-589-6084
Email:  
ummstact@morris.umn.edu