2023-24 Performing Arts Series
Season Donors
Donor: Sustainer Season Tickets
$200
Donor: Benefactor Season Tickets
$150
Donor: Patron Season Tickets
$100
---
Season Subscribers
Season Subscriber Tickets:
$70    General Adult
$35    Senior Citizens 65+
$35    Youth under 18
$35    UMM Students

 
2023-24 Performances & Individual Tickets
For more information about the performance, please click on the title or the image below.

To order season tickets, please use the links above.
To order individual tickets, please use the Select buttons below.
Advance Individual Ticket Prices:
$10  General Adult
$5    Senior Citizens 65+
$5    Youth under 18
$5    UMM Students
---
NÆ is a Chicago-based synth pop and electronic artist. Her music satirizes the absurdities of American aspirational lifestyles – think unicorn parties, sugary coffee drinks, and sexting. Her sharp wit and humor are balanced with levity, imagination, and a cosmic effervescence that is both captivating and clever. NÆ is the persona of visual artist JaNae Contag.
Producer, mixing engineer, and multi-instrumentalist Ryan Black performs on stage with NÆ as Blizz and is her core collaborator in the writing and recording process. Black's production leans heavily into both his sound design experience and jazz influence.
Contag is a Lecturer in Fine Arts in Photography at Loyola University Chicago and Black teaches in the Audio Arts & Acoustics Program at Columbia College Chicago and is a sound designer with Rocket Cat Games.   MORE INFO
---
For the last decade, Rocio Mendoza, Roberto Carlos, and Jesus Martinez have serenaded audiences in LA and beyond with their own interpretations of a genre called "Bolero." They relive the vintage sounds and songs of the 1940s-1960s stylized during the Golden Era of Mexican Cinema. "Through their expert musicianship and swooning vocals, Tres Souls enchants audiences and transports them to a more romantic time." (The Music Center)
Each member of the trio is an accomplished musician, and each inherited the knowledge and importance of heritage music through their family and generations before them. In their own way, Tres Souls are following in the footsteps of other "Trio Romanticos," like Eydie Gorme Y Los Panchos, Los Tres Reyes, and Los Tres Ases, while interspersing musical influences that can be heard echoing throughout the diaspora of Los Angeles.   MORE INFO
---
Henrik Ibsen's classic drama about a woman's search for personal autonomy shocked audiences when it first premiered in 1879 and still remains relevant almost 150 years later. Nora's journey to self-discovery causes her to defy the male-dominated norms of 19th-century European society and climaxes in what was called "the door slam heard round the world." Produced by the University of Minnesota Morris, Theatre Discipline.

Directed by Ray Schultz, Professor of Theatre Arts.
---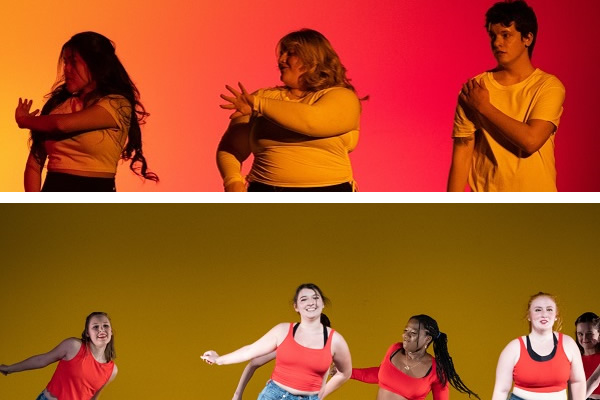 Dance Ensemble
Fall Performance
Friday, November 17 at 7:00 PM
Saturday, November 18 at 1:00 PM
Saturday, November 18 at 7:00 PM

Spring Performance
Friday, April 26 at 7:00 PM
Saturday, April 27 at 1:00 PM
Saturday, April 27 at 7:00 PM

Student Center, Edward J. and Helen Jane Morrison Performing Arts Center, Edson Auditorium

Dance Ensemble provides opportunities for UMM students interested in dance to pool their talents to choreograph dance performances and sponsor activities that enhance dance availability for the campus' students. Dance Ensemble has two dance performances a year, giving all members a chance to perform and showcase various dance styles that change each semester to allow dancers to try something new.
---
This performance showcases regional tap performances from KrAz Dance, Footnotes Studio of Dance, Starz Dance Studio, 506 Tap Dance Company, and the UMN Morris Dance Ensemble.
---
Embark on the ultimate journey west with Meiningens Student Theatre's highly anticipated annual student-produced show, The Trail to Oregon. This side-splitting adventure follows a multi-generational family as they seek a fresh start on the treacherous trail after their farm is reduced to ashes. Brace yourself for snakes, bandits, internal conflicts, and unexpected twists. Inspired by the iconic 1970s computer game The Oregon Trail, this 2-hour musical extravaganza allows the audience to name their very own wagon parties and cast their vote for one of the five captivating endings. Pack your essentials and join us for a memorable experience filled with laughter, suspense, and unforgettable characters.

Directed by Bria Teasley
---
The Pack Drumline is a dynamic and talented group of percussionists and dancers who have become a force to be reckoned with in the Entertainment Industry. Hailing from Chicago IL, The Pack Drumline has been wowing audiences with their high-energy performances for years!
The group was founded by Perry Donta'e, who has always held a passion for percussion and dance. It started as an after-school program and slowly grew into a full-performance group. From playing together in local parades and town events, they built a reputation for their skill and showmanship. They began incorporating dance and visual stunts into their performances, creating a truly unique and unforgettable experience for their audiences. Today, The Pack Drumline is known for their High Energetic performances and Fun Crowd Engagement. Their performances are a feast for the senses, combining music, dance, and jaw-dropping stunts to create a truly immersive experience. They've been referred to as a "Master Class" of Entertainment.
All the performers you see on stage hold one thing in common, they are passionate about sharing their love of drumming and performance with audiences of all ages and they aim to inspire others to follow in their footsteps and pursue their own creative passions.   MORE INFO
---
Experience the extraordinary talents of Bethel Balge and Tony Ross in an enchanting recital. Minnesota Orchestra Principal Cellist Tony Ross and ProMusica Minnesota Artistic Director and Pianist Bethel Balge present an evening of duets by Lucas Foss, Felix Mendelssohn, and Dmitri Shostakovich. With its rich timbre, the cello evokes the human voice in its capacity to convey motion. The piano carries a similar dramatic heft. Foss's refreshing Capriccio, Mendelssohn's gorgeous D Major Cello Sonata, and Shostakovich's iconic Cello Sonata afford both instruments room to explore their range and reach for the Heart. Join us for an evening of captivating performances, and prepare to immerse yourself in a night of unforgettable melodies.
This performance was made possible by the generous and visionary support of a private donor.
---
Dates and artists subject to change.  
Contact us:
Office of Student Activities, Conferences and Special Events
University of Minnesota, Morris
600 E 4th St
Morris, MN 56267
Location:
UMM Student Center
Lower Level, Room 15
Morris, MN
Walk-up hours:
8:30 AM to 4 PM, M - F
Tickets:
320-589-6077
Student Activities:  320-589-6080
Fax:  320-589-6084
Email:  
ummstact@morris.umn.edu