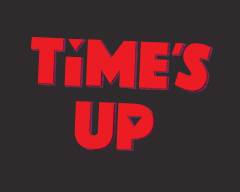 Time's Up
: an adaptation of The Conversion of the Harlot Thaïs by Hrotsvit of Gandersheim
Adapted by Jenna Soleo-Shanks
Directed by Jenna Soleo-Shanks
Choreographer: Rebecca Katz-Harwood
Music Supervisor: Andy Kust
Mar 7 - 9 & 19 - 23, 2019 | 7:30 pm
Mar 24, 2019 | 2 pm
Marshall Performing Arts Center - Dudley Experimental Theatre
General admission seating
Approximate run time: 80 minutes (no intermission)
ASL interpreted: Sunday, Mar 24, 2019 at 2 pm
#MeToo. Musical theatre. Medieval drama. What do these things have in common? This original piece, based on a 10th century play and created by UMD students and faculty artists, puts a spin on pop culture, sex, and politics. This work is an adaptation of a Hrotsvit of Gandersheim play.
TALKBACKS
 - immediately following these performances:
Friday, 3/22: Dr. Jamie Ratliff (Art History) and Dr. Mitra Emad (Anthropology): A conversation about Feminism and the UMD production of Time's Up.
Saturday, 3/23. Dr. Lofton L. Durham III (Associate Professor of Theatre (Western Michigan University) and Dr. Krista Twu, (English): A conversation about 21st century reception of medieval drama.
"Time's Up" Choreographer talks about show.
---
Tickets:
INDIVIDUAL TICKET PRICES
$21 ADULT | $16 SENIOR & UMD FACULTY/STAFF/VETERAN | $10 STUDENT | $8 UMD STUDENT
Tuesday, March 19 BOGO tickets for UMD Students, UMD Faculty and UMD Staff available at the MPAC box office.  Please present your university ID when ordering.
Audio description is available upon request with a two week advance notice. For further information, please call 218-726-8561.
*2 PM Sunday matinee will be ASL interpreted.  Please inquire about details and seating locations.
All ticket holders must be seated 15 minutes prior to the performance. Any open seats may be sold at that time. No late seating for performances in the Dudley Experimental Theatre.
Contact us:
University of Minnesota Duluth
Fine Arts
Ticket Office
1215 Ordean Court
Duluth, MN 55812-3041
218-726-8561
218-726-8877
sfatix@d.umn.edu