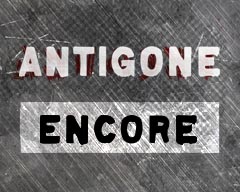 Antigone | Encore Performances
By Sophocles
Translated by Don Taylor
Directed by Jenna Soleo-Shanks
Friday, January 12, 2018 @ 7:30 pm
Saturday, January 13, 2018 @ 7:30 pm
Marshall Performing Arts Center - Dudley Experimental Theatre
General admission seating
Tickets:
$30 Adults
$15 Students
 
---
UMD Theatre selected for KCACTF Regionals
For the second year in a row, UMD Theatre has been honored to be invited to the Kennedy Center American College Theatre Region 5 Festival.  Following the success of UMD Theatre's original production of
One River
from our 2016-2017 season, UMD Theatre will be featured once again at the 2018 festival with it's production of
Antigone
, a 2,400 year old play with uncanny parallels in contemporary American politics.  
Performance dates are January 23 and 24, 2018 in Des Moines, IA.  For those unable to attend
Antigone
last October, an encore performance is being planned before the tour leaves Duluth.
Antigone
| 
Encore Performances
Friday, January 12, 2018 @ 7:30 pm
Saturday, January 13, 2018 @ 7:30 pm
Dudley Experimental Theatre | Marshall Performing Arts Center
Prices are $30 for adults and $15 for students.  
Immediately following the Saturday, January 13 performance, 
Minnesota House Representative Jennifer Schultz
 will participate in a talk-back. This short talk-back discussion will open our audience up to ask questions and talk about how 
Antigone
 reflects our current political climate.
Patrons can contact the box office for American Sign Language accommodations within a week of showtime.  
Over the past 30 years, UMD Theatre has been selected 13 times to present at the KCACTF Regionals and has been chosen five times to perform at the National Festival held at the Kennedy Center for the Performing Arts in Washington, D.C.  
(Note: as of 2011, productions no longer compete at the National Festival level.) 
For more information about KCACTF visit 
www.kcactf.org
.
---
Antigone
One of the most enduring ancient tragedies presents universal questions of power and civic duty through a modern translation reflecting current political conflicts. Antigone has uncanny parallels to contemporary American politics. This show features original music by UMD Music major William Brueggemann, and video projection design by UMD MMAD Lab Video Producer Dan Fitzpatrick.
Contact us:
University of Minnesota Duluth
School of Fine Arts
Ticket Office
1215 Ordean Court
Duluth, MN 55812-3041
218-726-8561
218-726-8877
www.sfa.d.umn.edu