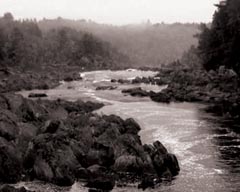 One River | Encore Performance
By Tom Isbell
Directed by Tom Isbell
Saturday, January 14, 2017 @ 7:30 pm
Mainstage Theatre | Marshall Performing Arts Center
General admission seating
Tickets:
$30 Adults
$15 Students
 
---
UMD Theatre selected for KCACTF Regionals
UMD Theatre is thrilled to announce the Kennedy Center American College Theatre Festival (KCACTF) has again invited UMD to perform at the Region V Festival in Des Moines, Iowa. UMD Theatre presents Tom Isbell's original work 
One River
, which is one of only six productions selected to compete in the six-state KCACTF regional competition. The KCACTF competition runs from January 22 - 28, 2017.   
Due to the world premiere sold out October shows, and to help defray travel costs to KCACTF, UMD Theatre is hosting an encore performance of this highly acclaimed show:
One River
 | 
Encore Performance
Saturday, January 14, 2017 @ 7:30 pm
Mainstage Theatre | Marshall Performing Arts Center
Prices are $30 for adults and $15 for Students.
The SFA Box Office, located in the Marshall Performing Arts Center, is closed during the UMD campus break.
We have limited Box Office hours from Tues., 1/3/17 - Tues., 1/10/17 and resume regular hours on Wed., 1/11/17 (10 am - 4 pm).
Tickets may still be purchased online.
Patrons can contact the box office for American Sign Language accommodations within a week of showtime.  
Over the past 30 years, UMD Theatre has been selected 12 times to present at the KCACTF Regionals and has been chosen five times to perform at the National Festival held at the Kennedy Center for the Performing Arts in Washington, D.C.  
(Note: as of 2011, productions no longer compete at the National Festival level.) 
For more information about KCACTF visit 
www.kcactf.org
.
---
One River
Written and Directed by Tom Isbell 
A documentary theatre adaptation of One River, Many Stories, a community journalism effort, One River tells the stories of the St. Louis River watershed: Its people, its history, its future. A cautionary tale about the future of our most precious resource, water, and also a reminder that without place, there are no stories; without stories, there is no place.
Evocative. Whimsical. Poetic. 
Director Tom Isbell shared what he hopes to convey with this work, "I want to demonstrate that theatre is another way to tell stories. I want to support the One River, Many Stories initiative and encourage overlap of disciplines and different modes of storytelling. In the play itself, through the exploration of the St. Louis River and what it means to so many, I hope we can also come to find out what it is that each of us values, and, namely that value of Place."  
"This moving theater presentation accomplishes what Isbell set out to do, blend a mosaic of many voices into one lyrical artistic whole, leaving the audience with the desire to go down to the oft-ignored river to see for themselves why it is such a glorious Northland treasure." – Sheryl Jensen, Duluth News Tribune review (9/29/16)  
Review (9/29/16) DNT: 
http://bit.ly/OneRiverDNTReviewE
Visit SFA's Vimeo account to view the encapsulated overview of
One River
: 
https://vimeo.com/193728931
Click on the image below to learn more: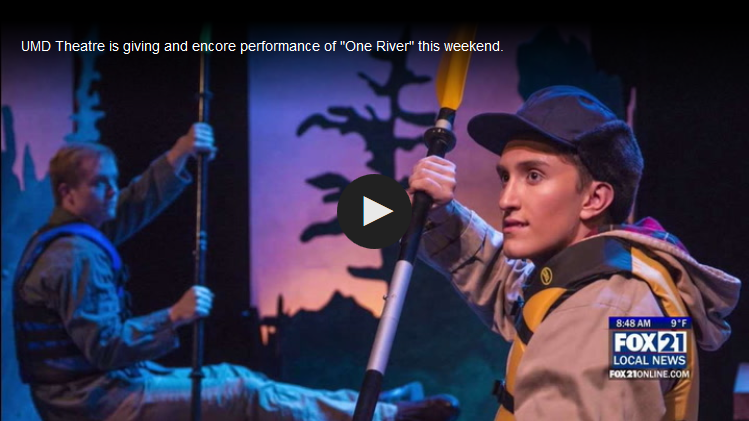 Contact us:
University of Minnesota Duluth
School of Fine Arts
Ticket Office
1215 Ordean Court
Duluth, MN 55812-3041
218-726-8561
218-726-8877
www.sfa.d.umn.edu