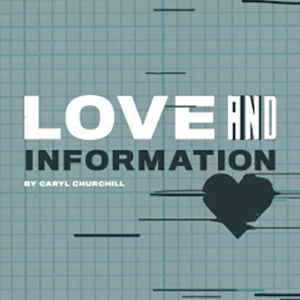 Love and Information
By Caryl Churchill
Directed by Lauren Roth
Virtual Live Stream performances
February 11, 12, 13 & 14, 2020 | 7:30 PM
Approximate run time: 1 hour 40 minutes
Recommended ages: 14 & up
 
In this kaleidoscopic series of vignettes, audiences will meet 100+ characters in a variety of everyday - and not so everyday - stories of life, love, and the information that shapes us.
FREE Streaming.
More Info About the Show
Find out more about this show by listening to the My95.7 radio interview with director Lauren Roth and radio host Rich Cannata.
Click this link to listen to the interview.
Director Laura Roth is featured on the Fox 21 TV weekly morning show "Coffee Conversations" with anchor Brett Scott.
Click this link to watch to the interview.
---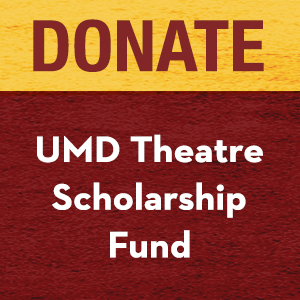 Support UMD Theatre Scholarships
Your gift to support the UMD Fine Arts is greatly appreciated!
Please click the Donate box and a window will open to the University of Minnesota Foundation fund selected to complete your transaction. You will receive the receipt for your gift from the Foundation directly.
---
UMD THEATRE welcomes two new faculty as we present the production of Love and Information.
LAUREN ROTH | Director | Love and Information

Lauren joins the UMD Department of Theatre by way of Los Angeles, where she resided for the previous two years of her career. She has spent the last decade working primarily as a voice, speech, and accent coach in NYC and LA, with recent credits on the Broadway national tours of Once On This Island and Waitress. She is a proudly certified teacher of Knight-Thompson Speechwork, an organization devoted to inclusivity in speech, language, and accent training. She is also a proud dog mom, something she is sure everyone around her is likely sick of hearing by now.

 
---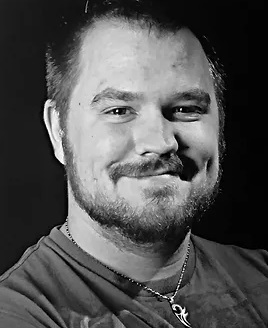 ETHAN HOLLINGER | Lighting Designer & Zoom Coordinator | Love and Information

Ethan Hollinger is excited to continue his first year at the UMD Department of Theatre. As the Lighting Designer and Zoom Coordinator for Love and Information, he is grateful for the opportunity to delve into the brand-new world of virtual theatre. An avid writer, artist, and musician, Ethan can usually be found hard at work with a bowl of popcorn nearby. Although he is enjoying the snow, he does miss real sweet tea. He has designed lighting, sound, and media across the country, and looks forward to many more shows as the Assistant Professor of Lighting & Sound.