2015 Dinner in the Garden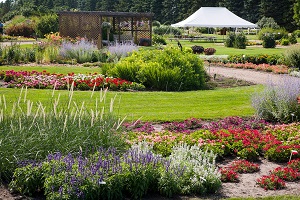 Thursday, September 3, 2015
5:30 PM - Social Hour
6:30 PM - Dinner 
Registration: 
(all patrons must be 21 or older)
Adults/General Public: $60 per person
Table of 8:  $57 per person
(If selecting a table, please select a quantity of 8)
All proceeds will benefit the Horticultural Gardens at the West Central Research and Outreach Center.  Your registration for this event includes a $35 per person contribution.  All registrations are non-refundable.
** NOTE:  Registration for this event has ended. **
University of Minnesota West Central Research and Outreach Center
Horticultural Display Garden**
46352 State Highway 329
Morris, MN 56267
Menu:
Social Hour
strawberries and prosciutto
crostini, caramelized onion, roasted cherry tomatoes
Minnesota-made cheese selections
First Course
local grown mixed greens
shaved fennel, summer fruit, gouda cheese
tarragon vinaigrette
2nd Course: (choice)
Meat option:
grilled pork loin
apple stuffing, braised cabbage, pickled ginger, local raised beans
Vegetarian option:
broccoli couscous
grilled summer squash, toasted nuts, balsamic
Dessert:
strawberry tart
lemon sabayon
This fine culinary experience includes an exquisite three-course meal in the beauty of the Garden, featuring fresh, local and seasonal ingredients, all expertly prepared by Chef Matthew Jensen of La Ferme in Alexandria. Chef Jensen's philosophy of using local and sustainable foods mirrors his passion for presenting the freshest and most distinguished menus. With a notable reputation for supporting local growers and foods, each item on the menu has been carefully selected from a local source by Chef Jensen.
Social hour features fresh hors d'oeuvres and locally-acclaimed Minnesota wines.  Many of the fruits, vegetables and herbs used in preparation for this meal are grown in the Horticulture Display Garden.
Wine for Dinner in the Garden generously donated by Carlos Creek Winery of Alexandria, MN
Live music performed by local jazz musicians during social hour.
Please note:  Tickets will not be mailed for this event.  Your registration will be recorded on the check-in list; you may bring your email confirmation as verification, if desired.
---
** In the event of inclement weather, Dinner in the Garden will be held in the AgCountry Auditorium at the West Central Research and Outreach Center.
Contact us:
U of M Tickets and Events
Northrop
84 Church St SE, Ste 13
Minneapolis, MN 55455
Phone:
612-624-2345
https://tickets.umn.edu
Email: 
umntix@umn.edu
Hours:
Mon - Fri: 10 AM to 5 PM