18th Annual Jack Allison Lecture
Bench to Bedside:
Exercise-Induced Neuroplasticity in Parkinson's Disease
Presenter: Beth Fisher PhD, PT, FAPTA
---
The brain's capacity for recovery from damage is far greater than previously recognized.  It is now understood that neuroplasticity can be facilitated through experience-dependent processes including environmental enrichment, exercise, forced-use, and complex skills training.  Most of our understanding of this recovery, termed experience-dependent plasticity is derived from animal models of stroke and spinal cord injury, but there is now evidence that the same phenomenon occurs in animal models of Parkinson's disease (PD).
 
Animal models of stroke and spinal injury have led to successful human trials and the development of specific interventions to promote neuroplasticity and behavioral recovery.  Most PD physical intervention studies in the past have promoted compensation and training individuals with PD to use compensatory strategies to achieve functional outcomes.  This approach to intervention stems from the assumption that in the case of a neurodegenerative process as exists in PD, there is no potential for recovery.  A significant challenge to this assumption has come with the demonstration of experience-dependent behavioral recovery and neuroplasticity in animals with basal ganglia injury (model of PD) that undergo intensive treadmill exercise or forced-use of the affected limb.  An indication that this phenomenon of neuroplasticity and recovery extends to humans with PD has come with recent intervention studies.  Either the reduced progression or recovery from basal ganglia dysfunction through experience-dependent processes (i.e., exercise) will identify a new therapeutic modality for treatment of PD. 
---
Course Outline:
Saturday, Nov 18
8:00 AM - 9:00 AM
Neuropathology of Parkinson's disease
 
9:00 AM - 10:00 AM
Exercise-induced neuroplasticity in animal models of dopamine depletion (PD)
 
10:00 AM - 10:15 AM
Break
 
10:15 AM - 11:00 AM
Continue Exercise-induced neuroplasticity in animal models of dopamine depletion (PD)
 
11:00 AM - 12:00 PM
Exercise-induced neuroplasticity in Parkinson's disease
 
1:00 PM - 2:30 PM
Continue Exercise-induced neuroplasticity in Parkinson's disease
 
2:45 PM - 4:30 PM
Enhancing motivation and motor learning in PD
 
About the Presenter, Beth Fisher PhdD, PT, FAPTA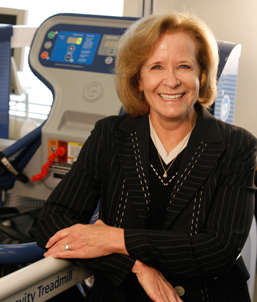 Dr. Beth Fisher is a Professor of Clinical Physical Therapy in the Division of Biokinesiology and Physical Therapy at the University of Southern California. Dr. Fisher is the director of the Neuroplasticity and Imaging Laboratory primarily using Transcranial Magnetic Stimulation (TMS) to investigate brain-behavior relationships during motor skill learning and motor control in both non-disabled individuals and individuals with neurologic disorders. She previously worked at Rancho Los Amigos Medical Center on the Adult Neurology and Brain Injury Services and continues to consult and teach nationally and internationally on current concepts for the treatment of adults with neurological disorders. During her years as a clinician and rehabilitation specialist, it was her greatest ambition to be a part of developing physical therapy interventions that would maximize neural and behavioral recovery in individuals suffering from pathological conditions affecting the nervous system. Towards this goal she is currently studying the effects of skill training on functional recovery and brain repair in Parkinson's disease. Additionally, she is studying brain changes using TMS in healthy individuals learning complex motor skills as well as long-term brain modifications that have occurred as the result of elite performance in athletes and professional musicians.
---
---
Recommended Parking: Washington Avenue Ramp 
For questions contact Maureen Boxrud at
brown029@umn.edu
.
Lecture Objectives:
to understand the pathophysiology, impaired motor and cognitive function of Parkinson's disease (PD)
to become familiar with the evidence for experience-dependent neuroplasticity and behavioral recovery in animal models of basal ganglia injury (models of PD)
to gain knowledge regarding the underlying neurochemical and morphological mechanisms that govern neuroplasticity in the injured basal ganglia
to examine the role of physical therapy intervention in promoting neuroplasticity and behavioral recovery in individuals with Parkinson's disease
to examine intervention strategies that are currently being tested in clinical trials and relate them to clinical practice
to recognize the impact of PD on motor learning and the role of motivation in improving motor learning capability
---
Contact us:
U of M Tickets and Events
Northrop
84 Church St SE, Ste 13
Minneapolis, MN 55455
Phone:
612-624-2345
https://tickets.umn.edu
Email: 
umntix@umn.edu
Hours:
Mon - Fri: 10 AM to 5 PM