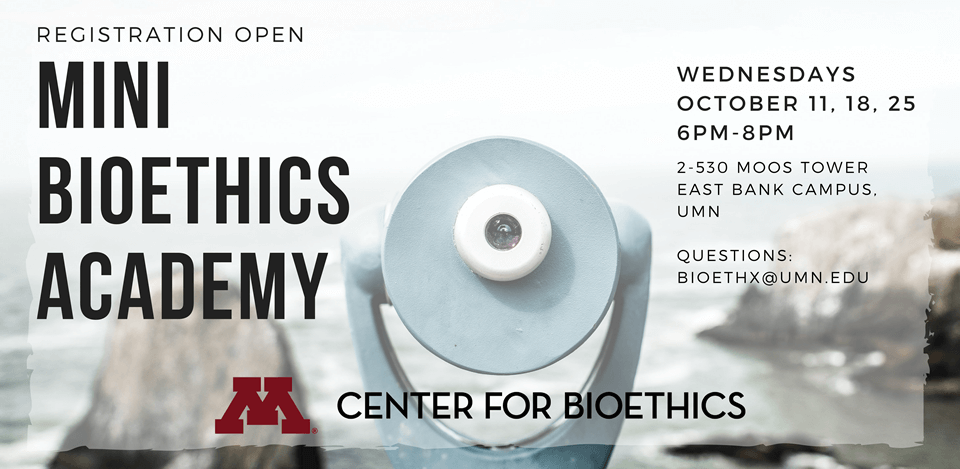 The University of Minnesota's Center for Bioethics is hosting Mini Bioethics Academy, a three night event to learn about and foster discussion on bioethical challenges in today's society. Mini Bioethics Academy is open to anyone interested in learning more about bioethics. Choose to attend one, two or all three sessions. Seating is limited, so we encourage you to register early to get a space.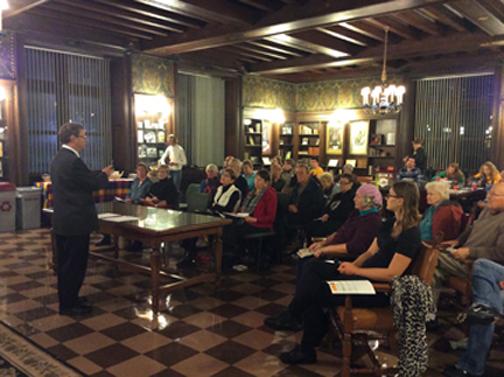 Session Info, Pricing and Registration
Individual Sessions
Adults/General Public:  $10 Advance / $15 at Door*
Students:  $5
*Registration at the door is based upon availability

 
Select Individual Sessions below:
Mini Bioethics Academy - Session 2: Food Justice & Bioethics
Michelle Horovitz, JD and Princess Titus

Princess Titus and Michelle Horovitz, cofounders of Appetite For Change, a nonprofit organization based in North Minneapolis will tell their stories of how they came to the work of Food Justice. Michelle, a recovering Public Defender with a Bioethics degree and Princess, a refugee from Chicago and Teacher will talk about the mission of Appetite For Change: using food as a tool for building health, wealth and social change. They will explore the various ethics issues that arise in their work and how the field of Bioethics can be of service to, and inform, the work of food justice activists worldwide.

Note: Online registration closes on Oct 17 at 4:30 PM; Walk-in registration will begin at 6 PM on Oct 18
---
Mini Bioethics Academy - Session 3: The Ethics of Environmentally Responsible Health Care
Andrew Jameton, PhD
 

Environmental Ethics relies on the perspective that we cannot afford to devote unlimited resources to individuals. Yet, Health Care Ethics demands that providers do all that's possible for their individual patients. How can we approach care for people and the earth with these conflicting priorities?

Perhaps the answer is to think about it more holistically and cooperatively: Is it possible for environmentally responsible health care to exist? Can we design systems that are vigorous, inspire new technologies, and improve patient care, without depleting the world's limited resources?

This session will engage the audience in a discussion on potential solutions to sustaining an individual's health while also respecting the world's resources and its limitations.

Note: Online registration closes on Oct 24 at 4:30 PM; Walk-in registration will begin at 6 PM on Oct 25
Previous Sessions:
Mini Bioethics Academy - Session 1: Dying of Meaningless Work
Christopher Michaelson, PhD
Most adults spend more waking hours working than doing anything else. Yet many of us experience tension between the inspired lives we wish to lead and the uninspired work we actually do. Meaningless work can contribute to stress and unhappiness that harm physical health, but it can also contribute to a slow, spiritual sort of death. This conversation will explore the market forces that contribute to meaningless work and what we might do as moral beings to pursue, practice, provide, and protect more meaningful work and lives.

Note: Online registration closes on Oct 10 at 4:30 PM
Walk-in registration will begin at 6 PM on Oct 11 at 2-530 Moos Tower . Walk-in registration is $15
About the Center for Bioethics
The mission of the Center is to advance understanding concerning ethical issues in biomedical research, health care and the life sciences, with a focus on the rights and interests of patients, research participants, and the public.
The Center carries out this mission by conducting original interdisciplinary research and scholarship, offering educational programs and courses, fostering public discussion and debate, and assisting in the formulation of public policy. The Center provides education in bioethics for University students, faculty, and staff; professionals in health care and related fields; and interested members of the general public.
For program information:
Center for Bioethics
N504 Church St SE
410 Delaware Street SE
Minneapolis, MN 55455
Ph:  612-624-9440
Fax:  612-624-9108

Em: bioethx@umn.edu

www.bioethics.umn.edu
Contact us:
U of M Tickets and Events
Northrop
84 Church St SE, Ste 13
Minneapolis, MN 55455
Phone:
612-624-2345
https://tickets.umn.edu
Email: 
umntix@umn.edu
Hours:
Mon - Fri: 10 AM to 5 PM