Stanislaw Skrowaczewski conducts the Musicians of the Minnesota Orchestra
with Lydia Artymiw, solo piano
Stanislaw Skrowaczewski, conductor
Lydia Artymiw, piano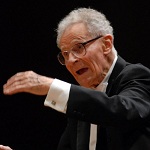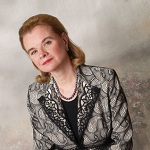 Thursday, November 14, 2013 at 7:30 PM
Friday, November 15, 2013 at 8 PM
Ted Mann Concert Hall
2128 Fourth Street S
Minneapolis, MN 55455
Tickets*
Performances:
$60, $40, $20
Student Rush:
$30, $20, $10
One hour prior to performance, in person only at Ted Mann Box Office. Valid student ID required.
The Program
RICHARD WAGNER
Prelude and Liebestod, from
Tristan and Isolde
WOLFGANG AMADEUS MOZART
Concerto No. 23 in A major for Piano and Orchestra, K. 488
Lydia Artymiw, piano
JOHANNES BRAHMS
Symphony No. 2 in D major, Op. 73
Please note: Currently, there are no tickets available for the November 15 performance.
We encourage people seeking tickets to arrive at Ted Mann Concert Hall one hour prior to the concert to wait in a cancellation line** for any available tickets.
Parking Info & Directions to Ted Mann Concert Hall
About Musicians of the Minnesota Orchestra
*Prices include all applicable fees and taxes.
**Cancellation line: A waiting line for any available tickets. If tickets become available, we will sell them to people in line at the current price for that seating location. Tickets will be sold on a first-come, first served basis. We do not offer a waiting list; you must be in line in person to be eligible for purchasing a ticket.
Suggested for age 6 and above.
When purchasing tickets online, you will be asked to create a username and strong password (8 or more characters, including uppercase & lowercase letters, numbers and symbols.) Upon completion of your order, a confirmation will be emailed to you from umntix@umn.edu.  If you selected to have your tickets mailed to you, they should arrive via USPS within 7 to 10 business days. If you have any questions or problems while placing an order, please call our office at 612-624-2345 during our regular hours.
All sales final. No refunds or exchanges.
Contact us:
U of M Tickets and Events
Northrop
84 Church St SE, Ste 13
Minneapolis, MN 55455
Phone:
612-624-2345
https://tickets.umn.edu
Email: 
umntix@umn.edu
Hours:
Mon - Fri: 10 AM to 5 PM