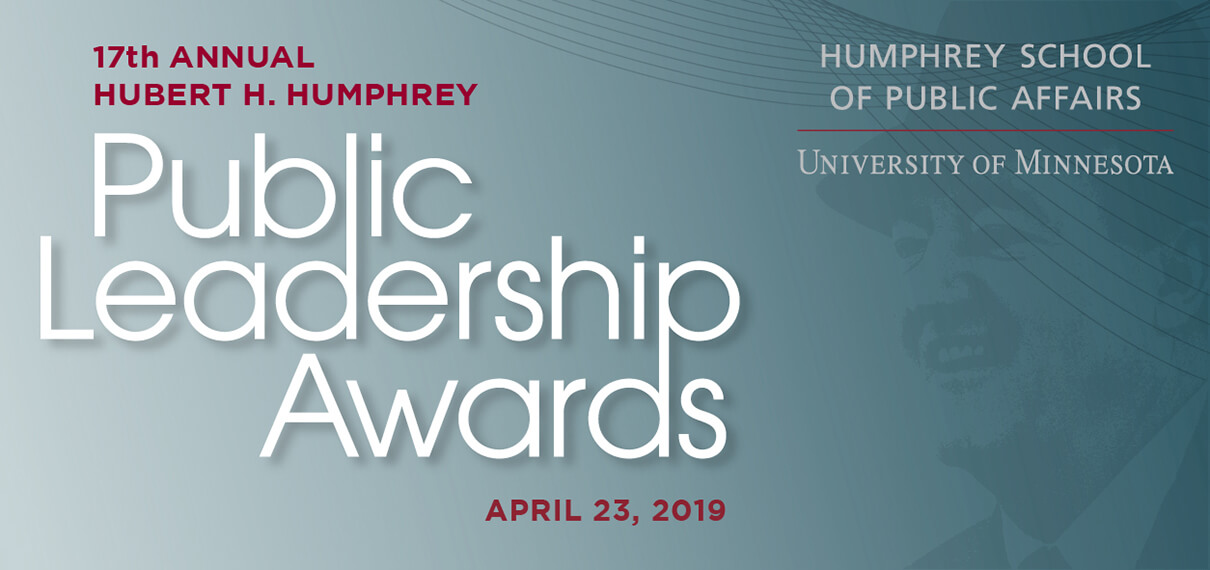 Please join us as we recognize and celebrate excellence in public leadership at the 17th Annual Hubert H. Humphrey Public Leadership Awards, presented by the Humphrey School of Public Affairs.

These awards honor individuals and organizations that have contributed to the common good through leadership and service.
---
2019 Hubert H. Humphrey Public Leadership Award Recipients:
JOHNNETTA BETSCH COLE, Former director of the Smithsonian Institution's National Museum of African Art and first female president of Spelman College, for her outstanding legacy as an advocate for education and equity, stimulating hope and opportunity in a changing world.
GARY EICHTEN, MPR News Editor-at-Large and retired program host, for a lifetime of cultivating vital public conversations and advancing free speech, ensuring every voice has a place at the table.
BRIGADIER GENERAL SANDY BEST, (Humphrey School Policy Fellow, '12) Chief of Staff and first female general in the Minnesota National Guard, for breaking barriers and serving the state with an inclusive leadership style, as well as a demonstrated deep ethic of giving back to the community.
Special Alumni Recognition
JAMES A. JOHNSON, (BA, Political Science, UMN '66; Honorary Doctor of Laws, UMN '06) Chair of Johnson Capital Partners and Chair Emeritus of The John F. Kennedy Center for the Performing Arts and The Brookings Institution, for his decades of dedication to the University of Minnesota.
Buy Tickets
Celebrate leaders who advance the common good at the 2019 Public Leadership Awards.
If you are interested in sponsoring a table, please contact Jaden Hansen, hans1167@umn.edu or 612-301-2533.

Please note: Registration will close on Wednesday, April 17, 2019 at 12 noon. If you have registration or event questions after that time, please contact Meredith Smalley at 612-301-2102 or msmalley@umn.edu.
---
Directions and Parking

*$75 is a tax-deductible contribution to the Humphrey School of Public Affairs. A receipt for your donation will be sent by the University of Minnesota Foundation. When registering, the process will begin with the event registration and then proceed to the donation component. At the end of the process there will be several questions to answer regarding your registration for seating, special needs, and nametag.  If there are any questions, please call U of M Tickets & Events for assistance.  Thank you.
Contact us:
U of M Tickets and Events
Northrop
84 Church St SE, Ste 13
Minneapolis, MN 55455
Phone:
612-624-2345
https://tickets.umn.edu
Email: 
umntix@umn.edu
Hours:
Mon - Fri: 10 AM to 5 PM