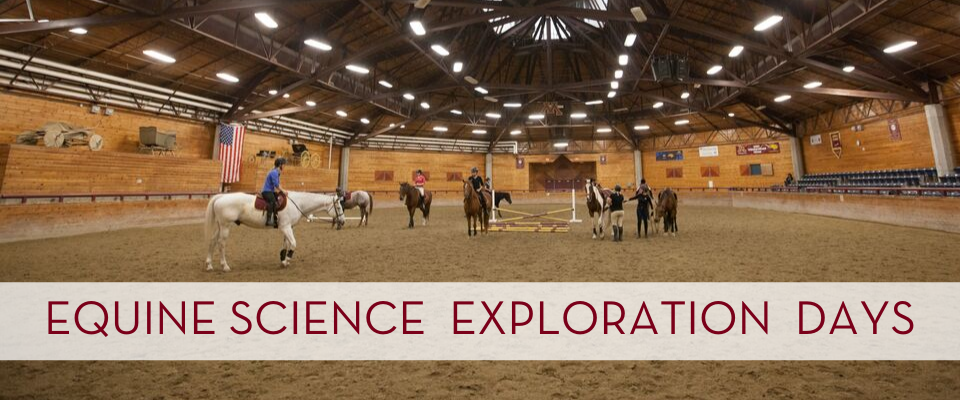 Equine Science Exploration Days:
Friday, March 6, 2020, 1:00 p.m. - Saturday, March 7, 1:00 p.m.
University of Minnesota Crookston
$25 (non-refundable)
*Waiting list registration only at this time (no charge).
Click the "Select" button below to begin the waiting list registration process.
If space opens up, waiting list registransts will be contacted in the order in which their waiting list registration was received.
---
Calling all high school juniors and seniors! Explore the Equine Science industry and career opportunities, while experiencing hands-on labs including reproduction, anatomy, riding and driving! Also, meet with the IHSA Head Coach.

You will arrive on campus on Friday, March 6 at 1:00 p.m. and will finish up on Saturday, March 7 around 1:00 p.m. It will truly give you a 24-hour glimpse of what it's like to be a UMN Crookston student. Equine Science Exploration Days will include all meals, an overnight stay in one of UMN Crookston's residence halls and classroom/lab experiences. Also, you are welcome to stay on Saturday afternoon to watch the UMN Crookston Equestrian Western team compete at their show on campus.

Please note: Exploration Days participants will be staying with host students (current Equine Science students/Equestrian Team members) in their residence hall rooms. We are not able to provide overnight accommodations for parents/guardians, but there are hotels in the area. Find lodging and transportation options here.

A detailed schedule including parking information and a parking pass will be sent prior to your visit.

Questions? Please contact Jonathon Holland for more info! holla042@crk.umn.edu or 218-281-8562

Registration open through March 3, 2020.
---
---
Exploration Days:
Office of Admissions
University of Minnesota Crookston
Suite A Owen Hall
2900 University Ave
Crookston, MN 56716
1-800-UMC-MINN or 218-281-8569
umcinfo@umn.edu
UMN Crookston